Yoda Stuffed Toy
Yoda Cuddles, Spaceships, and More Geek Tweets of the Week
This week in the Twitterverse, our favorite geeks cuddled up to spaceships, Yoda, and a British privateer-turned-pirate. Mohawk Guy, aka Bobak Ferdowsi, of NASA Jet Propulsion Laboratory paid respect to a previous Mars-bound module, and Simon Pegg partied with the space shuttle Endeavor. See Bob, Simon, and more geeky celebs in this week's top 10 tweets.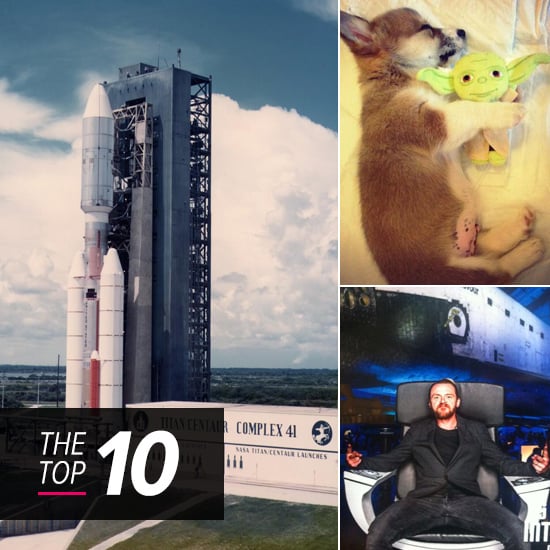 The Sync Up host Veronica Belmont has a fine idea. We think Benedict should be the voice of all things.
Can I vote for Benedict Cumberbatch as the male voice of Siri? Are we voting? Can that be a thing?

— Veronica Belmont (@Veronica) September 10, 2013
More pithy messages — and a special bonus bit — from our favorite geeks after the break.
Perhaps this pup, shared by The Stars Wars Craft Book author Bonnie Burton, is hoping to gain wisdom from Yoda through osmosis.
Strong with the Force, this puppy is! RT @onetwoseventeen: aww <3 pic.twitter.com/WhEIYqjxOj #StarWars

— Bonnie Burton (@bonniegrrl) September 10, 2013
The Star Trek Into Darkness DVD/Blu-ray combo pack hit stores this week, and the cast and crew invited the retired space shuttle Endeavor to the party, which actor Simon Pegg attended.
Third in command bitches! pic.twitter.com/FN8oZthEaj

— Simon Pegg (@simonpegg) September 11, 2013
X-Men and Star Trek star Patrick Stewart wedded Sunny Ozell (it was officiated by X-Men costar Ian McKellan) and proceeded to take the most perfect picture announcement ever.
Yes, married. pic.twitter.com/ZSMnpluSeL

— Patrick Stewart (@SirPatStew) September 8, 2013
Curiosity rover Flight Director Bobak Ferdowsi sends a nod to a Mars-bound predecessor that survived 1,281 Mars days.
Happy 38th Viking 2! Thanks for paving the way! Launch: Sept 9, 1975. pic.twitter.com/wVROtL4VzU

— Bobak Ferdowsi (@tweetsoutloud) September 9, 2013
Astrophysicist Neil deGrasse Tyson lays it down. Again.
Hmm. Nissan Altima TV commercial boasts NASA inspired zero-gravity seats. But if you're in zero gravity, you don't need seats

— Neil deGrasse Tyson (@neiltyson) September 13, 2013
Geek & Sundry's Felicia Day and Assassin's Creed's hooded giant share a sweet moment.
Touring @ubisoft in Montreal woot! Tried Child of Light demo, soooo amazing! pic.twitter.com/FKMRWZhIwZ

— Felicia Day (@feliciaday) September 12, 2013
Adam Savage and Jamie Hyneman of MythBusters have been entertaining us with science for a decade.
Look at us. So young, so full of hope. So few props around us ... #throwbackthursday @MythBusters pic.twitter.com/mvrHnbOMia

— Adam Savage (@donttrythis) September 5, 2013
The famed Japanese artist, known for his jubilant cartoon flowers, transforms into director J.J. Abrams's studio mascot.
Look - Takashi Murakami as a Bad Robot! Thanks for visiting & adding to the #BRLobbySketches collection, @Takashipom! pic.twitter.com/pwVMSKH9Is

— Bad Robot (@bad_robot) September 13, 2013
The Avengers director Joss Whedon tweets under the influence of mimosas.
If u were Captain America brunching w/the Hulk and u were attacked by intelli-bees what would u say ASKING FOR A FRIEND #mimosas

— Joss Whedon (@josswhedon) September 6, 2013
Bonus Social Bit
Breaking Bad's Jesse Pinkman, aka Aaron Paul, shared this snap from the set . . . What could it possibly mean?!