Will You Use Google Buzz?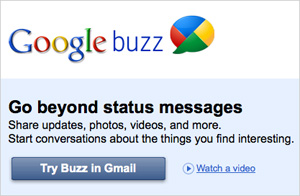 Reactions were mixed after yesterday's Google Buzz announcement. Many people seemed skeptical of the new feature; after all, we already have Twitter, Facebook, and so many other ways of keeping in touch with friends . . . Is this overkill?
I can't decide if I'm on the Buzz train yet. On one hand, it's built into Gmail so it's easy to use and already includes most of my friends and most-emailed contacts. On the other, I'm still afraid it's a little too easy to post something you may not want everyone reading, and the potential for oversharing is huge. What do you think?