YouTube Best of 2011 Videos
Our Favorite 5 of YouTube's Top 2011 Videos
It's hard to go a couple days (or hours) without a friend, parent, or co-worker directing you to the "most amazing video EVER" on YouTube. Following the world's video sharing trends closely, YouTube unveiled the Top 10 YouTube videos of 2011. We'll admit we've watched videos one through 10 multiple times, but have our own list of top five favorites. While "Friday" was catchy, it didn't make our cut, which you can check out below.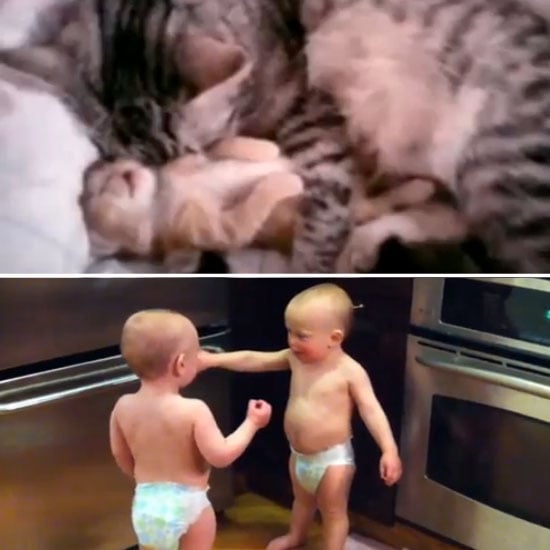 Nyan Cat — Coffee break? Try a Nyan Cat break whenever a moment of zen is needed throughout the day. How many of the 56 million views made it through the whole video of the pop-tart cat, the meme that launched a thousand parodies, crafts, and costumes?
Talking Twin Babies — We may not know what they're saying, but these twin babies are in the midst of a heated discussion that'll likely go on the rest of their lives. Over 56 million views attempted to debunk their baby talk.
Cat Mom Hugs Baby Kitten — Imagine a world where everyone watched this video of a mother cat pulling her restless sleeping kitten into a hug daily. It would be rather sweet and cuddly; 39 million viewers agree.
Two more YouTube faves after the break.
The Force — The Super Bowl is the one time we pay attention to commercials, so naturally one referencing Star Wars was even more cause for excitement. Combining a child's imagination with every adult geek's wish to actually channel the Force, the Volkswagen video received over 45 million hits since its football airing.
Look at Me Now, Karmin — Just watching Amy Heidemann, one part of the band Karmin (the second half being her fiancé, Nick Noonan) sing Busta Rhymes' verse of the Chris Brown song "Look at Me Now" has us reaching for an inhaler. Love or leave the thousands of YouTube covers out there, this one is over 51 million hits of impressive.
Which YouTube video sensation was your favorite in 2011?