YouTube Gives Partners $1,000 Each For Equipment
Gear to Make a Great YouTube Video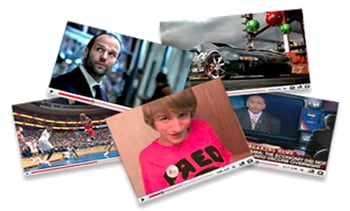 Christmas came early for YouTube's top moneymakers this morning as the company announced that it will be gifting $1,000 to each of its top 15,000 channel partners in order to help them create and distribute better videos.
Although you can create awesome video content on a shoestring budget (an HD camcorder and YouTube's free video editing software can do the trick in a pinch), here's the kind of quality gear that $1,000 will get you:
Camera — If you want to focus on video quality, a good camera is a must. The Zoom Handheld Camera ($300) comes with full 1080p HD recording and stereo microphones so you can use this baby at home or on the go.
Lights — Properly lighting your area will help viewers see you better! Although soft boxes are the best way to light your room or staging area, you could also DIY some of your own and possibly save a few bucks.
Microphone — If your viewers can't hear you, they probably won't come back. For this reason, any professional YouTuber will want to grab iMovie (comes with iLife for $50), but Final Cut Express ($200) and Corel VideoStudio Pro X3 ($69) are both amazing and powerful video editing tools.
Computer — You don't have to spend upward of $1,000 on a good computer. If you're a PC, you can grab this powerful and capable HP Envy 14 for $999.