YouTube Live Streaming Shows
YouTube Testing a Live Streaming Platform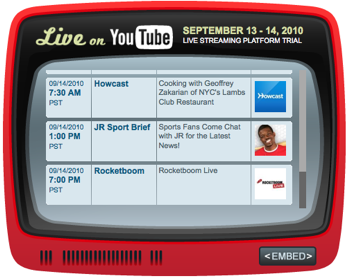 You can get live broadcasts on a number of websites, including one of my favorites, UStream, but today, YouTube kicked off testing for its own live streaming platform in conjunction with partners like Howcast, Next New Networks, Rocketboom, and Young Hollywood.
The platform not only lets you stream your own live show to YouTube, but it also lets your viewers respond with a live comments section. This way, you can take questions, comments, or notes from your audience as it's happening.
Want more details on YouTube Live, including what you need to get started and how long the testing will run? Then just keep reading.
YouTube's live streaming platform test kicked off this morning at 8 a.m. PDT and will run through tomorrow, Sept. 14. YouTube has a number of shows available to watch now, so check out the interactive schedule, tune in to what catches your eye, and leave some feedback.
All broadcasters need is a webcam to get started, so stay tuned for information about when the live streaming platform will be available to more YouTubers.