YouTube Trends Map
The Viral Videos US Cities Can't Stop Watching
Vampires, the US just does not know how to quit you. Across all age groups, the gripping trailer for True Blood season six is the most shared video in America, according to YouTube's new Trends Map, which reveals web videos gone viral around the country.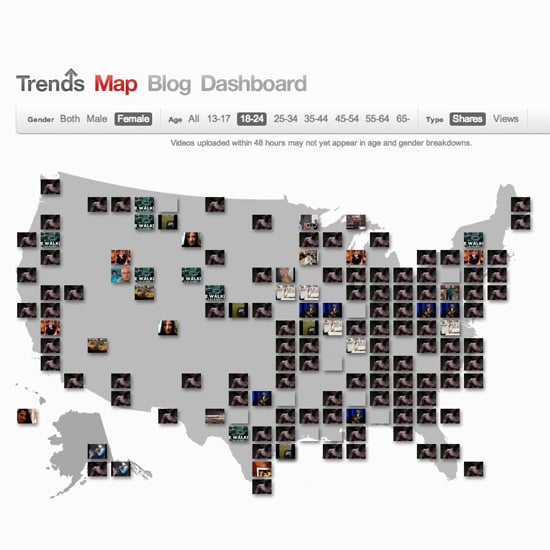 YouTube is visualizing its data about viewers — whether they're male or female, their age, where they're based, what they're watching, and how they're sharing — and making that information available to other YouTube users, to help them discover the top viral video sensations hitting the web over the last 12 to 24 hours.
Toggling between different filters reveals really interesting habits among different age groups and markets around the country. For both male and female viewers in all age groups, Corgi puppy and the Scary Spoon is the most shared video in Tucson, AZ — but nowhere else. Change the filter from "Both" to "Male," and many of the most popular videos will flip over to display The Morgue scene from Family Guy as the No. 1 hit.
The US-only map is a spinoff of the YouTube Trends Dashboard, which has even more advanced filters that display what's popular in other countries and comparisons between different parameters like age and location. Poke around and see what other YouTube users in Fort Lauderdale, FL; Boise, ID; and Seattle, WA, are clicking on. Are you surprised by what you find?