Your Shape: Fitness Evolved Details
Your Shape: Fitness Evolved Will Have You Working Up a Sweat
Remember yesterday when I said that the new Microsoft Kinect controller system would change the face of exergaming? Well the proof is in the pudding — yesterday, Ubisoft revealed their new title Your Shape: Fitness Evolved, that has you jogging, squatting, jumping rope, and kickboxing, all with some nice beats and hot trainers to move with.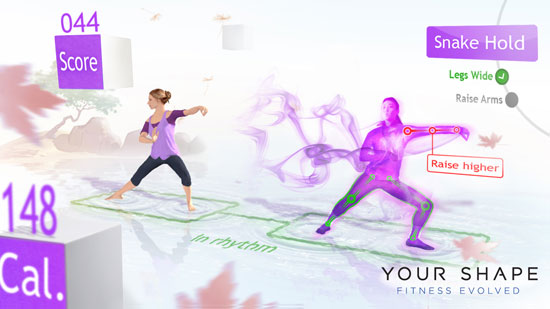 First, you'll get a body profile (including weight, height, BMI, and calorie burn), and set up goals to reach. Then using the Kinect's motion sensing, player projecting, and voice recognition technology, Your Shape will offer a wide range of workouts to keep you from getting bored — yoga, Pilates, cardio workouts, group classes, mini-games for the family, and personal trainer-based programs (led by well-known trainers like LA-based Michael George, who's worked with Reese Witherspoon and Spiderman's Tobey Maguire).
Additionally, the game's website will act as a hub for users to share their experiences, exchange tips, and get inspired by success stories. Your Shape: Fitness Evolved will be hitting stores this Fall, but until then, take a look at the fun trailer after the break.