ZAGGmate Keyboard iPad Case
The ZAGGmate Case Comes With a Keyboard Built Right Inside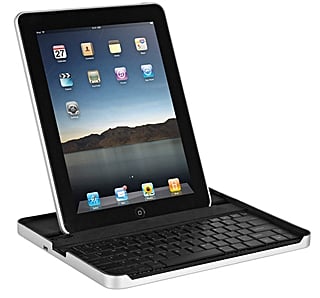 Apple's iPad is convenient because it's portable, but its onscreen keyboard doesn't always cut it — especially if you're trying to type with any speed. You could drop $69 for Apple's Keyboard Dock (and worry about how you're going to transport it), or you could check out the ZAGGmate case with built-in keyboard for $100.
The case is made from sturdy aluminum that matches and protects your iPad; a Bluetooth-enabled keyboard is built right in. The keyboard includes special function keys for music controls and other shortcuts, and the case allows you to display your iPad in either vertical or horizontal orientation. Plus, it's thin — the keyboard case adds about 1/4 inch to your iPad.
A version of the sturdy ZAGGmate case without a keyboard is also available for $70.