Zachary Levi at Nintendo E3 Booth
Which Is Hotter: Zachary Levi or a Nintendo 3DS?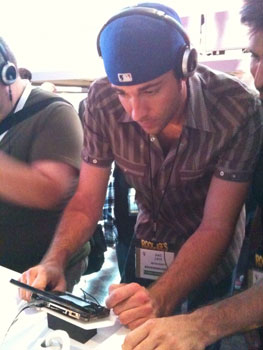 It's widely known that E3 is the place to be if you're a gamer, a game developer, or a game promoter, but this year saw a wash of celebrities enter the expo as well. Yesterday, we learned that Ryan Phillippe is a fan of the new Nintendo 3DS, and today we find Chuck's own Zachary Levi toying around with the new gaming console.
Ryan may have the upper hand when it comes to chiseled chests, but Zachary dominates in the cute, geeky guy next door department. After hearing him wax poetic about video games at last year's WonderCon, it's not a surprise to see Zachary enthralled in a heated 3D game at the Nintendo booth, but what does come as a surprise is how hard it is to decide which is hotter — Zachary Levi or a Nintendo 3DS?