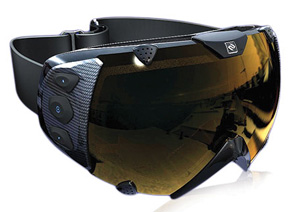 What fun is a sporting event without a little eye candy? He's not leading in Pop's hot Olympian poll (yet!), but while I was busy "researching" photos of my new favorite US Olympian, skier Jake Zamansky, I stumbled across this photo of him in ski goggles.
I'm not a skier, so I don't know all of the technical specs involved in ski gear, but I have spotted a few pieces of high-tech equipment before. Watching the Winter Olympics has snow sports on the top of my mind, so I was excited to see the super high-tech Zeal Optics Transcend ($350) GPS-enabled ski goggles. Besides GPS, they also display time, temperature, distance, altitude, and speed, all on a small LCD screen inside the goggles. Simply to turn your eyes slightly to the side to view the information screen.
It's too bad my Vancouver crush can't rock a pair of these yet — they aren't shipping until October. Though I have to say, he's looking pretty good in his own set of goggles! Don't miss a thing — check out all of the geeky details of this year's Winter games.