Zite Personalized iPad Magazine
Download of the Day: Zite For iPad
Content aggregators for the iPad have been around almost as long as the iPad. Apps like Flipboard and Livestand display personalized content based on user preferences. A new app for the iPad, called Zite, aims to personalize your reading experience by looking at things you've already read.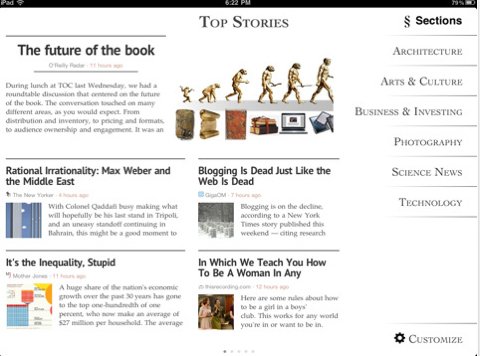 Find out more about how this awesome app works (it gets smarter as you use it!) after the break.
Zite pulls content from news sites and blogs based on what interests you. Upon setup, users can choose to have Zite access their Google Reader or Twitter feeds, automatically creating content around their interests. You're also able to personalize the content further by refining content through categories like photography, travel, entrepreneurship, and more. But Zite doesn't stop there; it actually gets smarter the more you use it by pulling data from each piece of content you read.
A personalization bar to the right of each piece of content invites you to give the article a thumbs-up or -down, elect to see more content from the article's source, or add more of the same content based on the main theme of the article. You can also share content quickly via Twitter, Facebook, or email.
The first time I tried Zite, it hit my interests spot-on; I found two articles of immediate interest that I hadn't seen before. The app is free and well worth checking out! I'm looking forward to seeing how it continues to hone in on my interests.