The All That Cast Reunited to Talk the '90s, Britney Spears, and Giant Corn at Comic-Con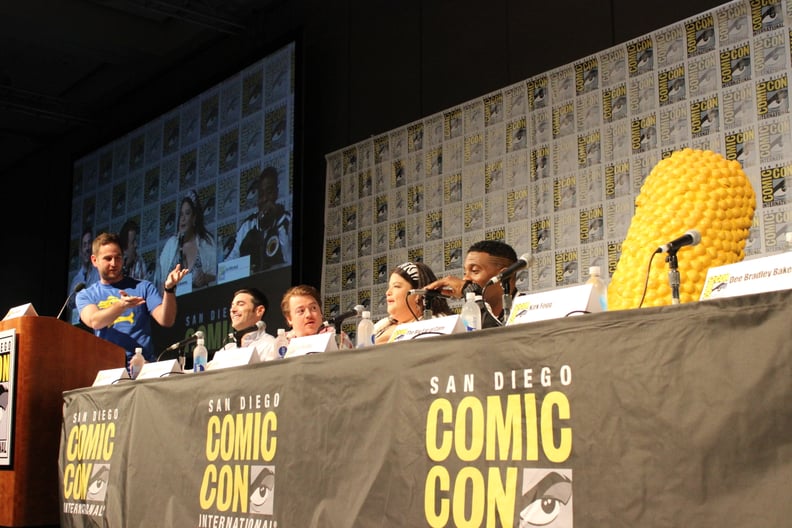 POPSUGAR Photography | Brinton Parker
POPSUGAR Photography | Brinton Parker
Twenty-two years after '90s Nickelodeon show All That dominated TV screens nationwide, four of the original cast members reunited at San Diego Comic-Con for a nostalgic panel devoted to memories about the show. Josh Server, Kel Mitchell, Danny Tamberelli, and Lori Beth Denberg answered questions on stage (alongside a fan-favorite All That prop: the giant ear of corn), recalling their favorite set stories and discussing the impact that '90s Nickelodeon had on fans' lives.
So, was life on the Nick show really "all that"? Here's what we learned from the panel!
How they remember the audition process for All That:
Lori Beth Denberg recalled auditioning for All That when it was still referred to as "Untitled Sketch Comedy Show" and credits her high school drama courses for helping her earn the opportunity. Josh Server and Kel Mitchell, who both hail from Chicago, said they already knew one another from other auditions in their hometown, so they were old friends by the time they were cast on the show.
Danny Tamberelli (who didn't join the cast until season four) and Kenan Thompson were already acting pros before hitting the All That set, both starring in different installments of The Mighty Ducks, which the rest of the cast teased Tamberelli about during the panel.
All That's special hazing rituals:
Because Tamberelli joined the cast later, he claimed that his fellow Nick actors "hazed" him by intentionally not laughing at his jokes. This worked out for the best, however, because it forced him to look at his own comedy with a critical eye, ultimately improving his timing and elevating his sense of humor!
The rest of the cast chuckled when remembering the excitement of Tamberelli's addition to the cast, with Server noting that the set boiled down to "teenage angst with a TV show."
The cast's favorite celebrity guests:
With so many celebrity guest-stars and musical performers to pick from, the cast had a hard time choosing their favorites. Server described what a privilege it was to work with comedy legend Chris Farley before his passing and Mitchell waxed poetic about the opportunity to rap with Busta Rhymes.
Denberg and Tamberelli had more humorous memories of their celebrity favorites, with Denberg noting how hilarious it was to bring an adult-favorite celebrity like Coolio into a kid-friendly environment like Universal Studios. Tamberelli might have the rest of his castmates beat, though, describing how he had to reshoot one sketch after ruining the scene by flagrantly staring at Britney Spears's butt. Whoops!
Scandalous on-set romances between cast members:
"We could not keep Kenan and Josh apart," joked Denberg when the panel was asked about crushes between cast members. The entire cast was quick to agree that there wasn't much drama or romance happening between the kids on set, because their relationship was more familial than romantic. "It was more 'brother and sister,'" described Server of the vibe on All That's set.
What it's like to reunite 22 years later:
"We get together and it's like no time has passed," Server noted affectionately of the cast, who were quick to hug, tease, and compliment one another during the panel. Though more than two decades have gone by, the group's endless inside jokes and teary laughter when recalling their past hijinks on set certainly proved his point.
Best memories when they think about '90s Nickelodeon:
Two of the All That veterans shared particularly special stories about their favorite snapshots of their time on set. Denberg recalled going to ride roller coasters at Universal Studios during her lunch break, because the Nickelodeon set was right inside the Orlando theme park. Twenty-two years later, she still recognizes how cool and unique the experience was.
Mitchell remembered how many kids and teens would approach him to share how All That was a reprieve from their tough home lives. Even when their parents were fighting or they were being bullied in school, he described, they had half an hour of TV that made them laugh — and being a part of that, to him, was an incredible privilege.