Apple is recalling two AC wall plug adapters that may break and cause electrical shocks if touched. If you're worried about having to toss yours, however, chances are you're probably not affected. According to the company's site, only the adapters that shipped from 2003 to 2015 to users in continental Europe, Australia, New Zealand, Korea, Argentina, and Brazil may be affected; they were also included in the Apple World Travel Adapter Kit.
"Customer safety is always Apple's top priority, and we have voluntarily decided to exchange affected wall plug adapters with a new, redesigned adapter, free of charge," said Apple on its site. To see which wall plug adapter you have, check out these images.
Affected: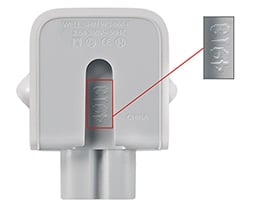 The affected wall plug adapter has four or five characters or no characters on the inside slot.
Redesigned: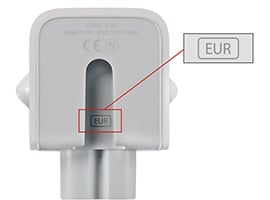 The redesigned adapters have a three-letter regional code in the slot (EUR, KOR, AUS, ARG, or BRA). To see the full details of what's affected, head over to Apple's website.