Facebook Messenger Just Got an Art-Full New Makeover
Facebook unveiled a major revamp of Messenger today. Stan Chudnovsky, head of product for Messenger, said the Messenger updates and changes were motivated by the same question that typically drives him and his team to innovate: "What do people do and how do we help them to do it more?" In this case, they turned their attention to just how visual Messenger — which began as a simple text chatting tool — has become. "People are spending hours and sending hundreds of millions of photos and videos to each other every day," he told me. "So how do we help them to do more of that?" Find out how he and his team answered that question below.
They Made It Way More Visual
Facebook is offering hundreds of new stickers, frames, 3D effects, and masks in the update. You can draw on your photos or videos, add text, or pull up emoji and badges that perfectly describe how you feel. (The morning I visited Facebook, "need more coffee"-themed badges were a popular choice among our test group.) The changes make Messenger feel a little bit more fun, sure, but they also reflect how people are already using the tool. More than 2.5 billion stickers, videos, pictures, and emoji are already being sent over Messenger each day.(That said, if you just want to kick it old school and send a simple text message, you still can.) Here's an example of my first attempt playing around with some of the new tools:

You Now Can Create Art Before Starting a Conversation
This new version is so art-centric, users can now start a conversation by first creating art with the "blank canvas" feature and then sending it to a friend or friends. While these new features might be reminiscent of Snapchat and Instagram Stories, one of the big differences is that Facebook has always designed Messenger to be used for conversations between individuals and small groups — not for publishers or influencers to reach big groups or fans.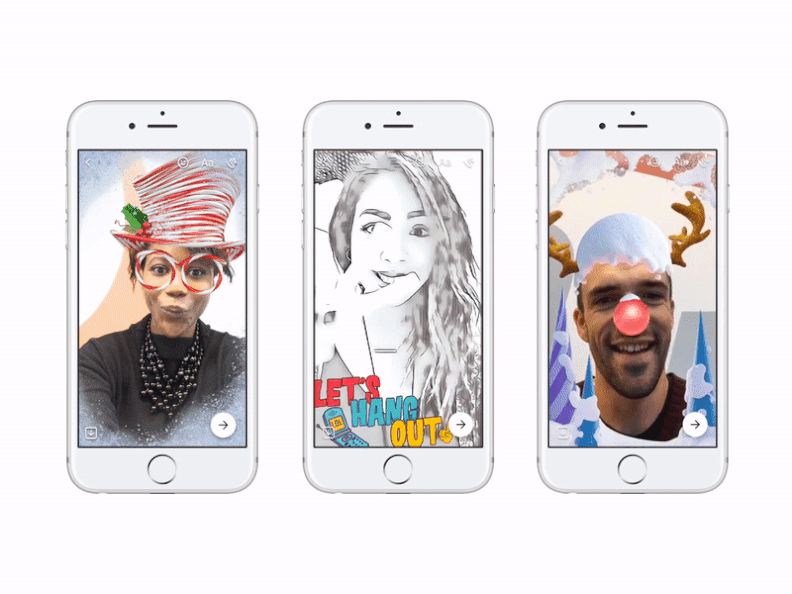 The Camera Is Faster and More Integrated
The new Messenger camera works faster, and it's much easier to access. It's never more than one tap away, and the new shutter button at the bottom of the screen looks similar to — and is just as intuitive to use — as the shutter button built into any smartphone camera. Tapping snaps a photo, while pressing and holding records video.