iLife 11 Introduced at Apple Event
Apple Introduces iLife '11, Coming Packed With New Features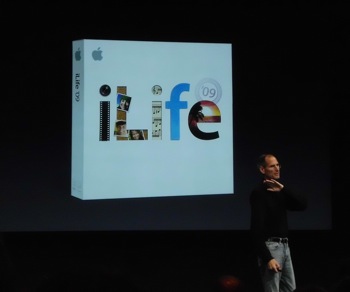 The first new product to be introduced at the Back to the Mac event is iLife. Coming with a bunch of new features, iLife is better than ever. Check out what's new in each application below.
iPhoto
New features include new full screen modes, Facebook enhancements, new slideshows, and new ways to email photos and print cards, including new custom letterpress cards (!) and postcards. Cool new maps let you see geo-tagged pics, and enhancements to the Faces feature recognizes faces even better. Additionally, you can customize books even further, add text, and move pics around with ease, then see all of your custom books in a bookshelf (just like in the iBookstore).
Hear about the rest of the iLife '11 features, including iMovie, Garageband, availability, and pricing after the jump.
iMovie
iMovie's audio editing has been overhauled and improved with the addition of real-time wave forms (which make it super easy to change audio levels), new one-step effects that let you select segments of your movie and quickly choose a number of simple effects, and a movie trailer creation tool that bring themed trailers to your fingertips. The trailer themes are pretty sweet, are crazy simple to use, and turn out like a real movie trailer! Fun fact — the orchestras used for these trailers were recorded at Abbey Road studios in London. Additionally, Apple has added its face-detection technology to iMovie so filling in your trailer with faces and actions can be done in seconds. I can already tell that my holiday home movies are going to be much more dramatic.
Garageband
New Garageband features include groove matching, which helps you fix timing problems with one click (described as a spell checker for music time), and a feature called flex time which allows you to extend your audio waves or cut them shorter by singling out a specific instrument. Additionally, instrument instructions and lessons (for guitar and piano) help you master your craft and progress charts help you visually see your success. Apparently the backing tracks on all of the instructional sections were recorded in Vienna. Go figure.
iLife '11 is free with all new Macs, and will cost only $49 with an upgrade starting today.