iMaxi: Maxi Pad iPad Case From Etsy 2010-02-26 03:47:16
iMaxi iPad Case With Wings: Totally Awesome or Totally Gross?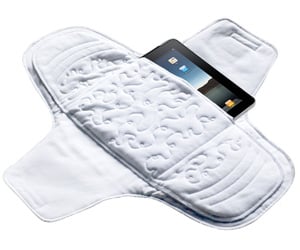 Opinions are split over the iPad Case With Wings ($40) on Etsy. I spotted it yesterday, and my initial thought was to laugh, hard. I mean, check out the case when it's all wrapped up. Then I took a closer look — namely at the, uh, available color options — and started to get a little bit grossed out.
Many people's first reactions (including ours at Sugar HQ) were snickers and disbelief over the name. Industrious Etsy seller Hip Handmaids jumped right on the trend, constructing the vinyl and cotton case available for preorder now. There's even a disclaimer: "Hip Handmades' iMaxi is for basic protection of your iPad." What do you think?