iNo iPhone App
Download of the Day: iNo For iOS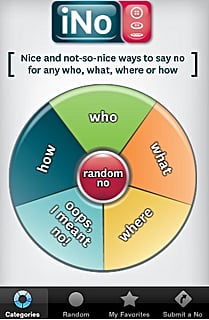 Do you have trouble saying no? From refusing tiny tasks to backing out of a big invitation, sometimes saying the tiny two-letter word is unbelievably difficult. To make it a little bit easier, enter iNo, an iOS app that gives you more than 1,000 ways to say no to whomever and whatever. To use it, just select the scenario you're in, and the app gives you a script to use to just say no.
The responses range from serious to sassy and offer encouragement along the way. Download it for $1 in the App Store.
Have you found a cool download-worthy treasure worth sharing? Join the Download of the Day group, and submit your favorite downloads and apps for a chance to be featured on GeekSugar.