Steve Jobs announced the new iPhone OS back in April, and it got a new name recently at the WWDC conference. Called iOS 4, this update brings lots of changes to the iPhone you know and love. Available to download for free on your iPhone 3G, 3GS, and iPhone 4 this Summer, iOS4 comes with a staggering number of new features — over 100. iPhone fans should be especially pleased with all the new organizational and productivity enhancements that come along with the update, and iPad users can look forward to diving in this Fall.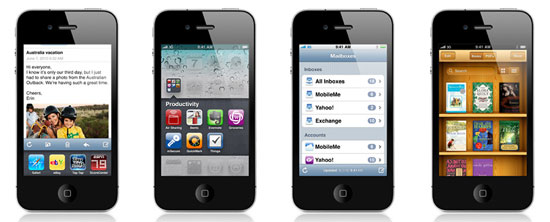 We covered a few of the new updates during the initial OS announcement earlier this Spring, but here, a few other notables that you may find surprising.
5X digital zoom — Get closer to the action with the iOS 4's 5X digital zoom.
Multitasking —Ahh, multitasking. Run more than one app at a time with this new feature! Play Pandora while you text, or keep up on your Words With Friends game while you surf your reader.
To see even more features of the iOS 4, just keep reading.


Folders — Organize apps by category in dedicated folders. Just drag and drop some apps in a folder, and iOS 4 will automatically label the folder by the theme of the apps. You can hold up to 2160 apps!
Singular inbox — No more switching back and forth between email inboxes for your different accounts — all of your mail will come to one inbox to save you time, and all messages can be threaded for easy viewing.
Tap to focus video — 3GS users can already tap to focus their photos, and now that handy feature is extended to video in the new update.
Change up your wallpaper — You will soon be able to customize your home screen background wallpaper with new and enticing images.
Gift an app — You can already gift an app in iTunes, but soon, you'll be able to gift on the fly from your iPhone as well.
iBooks — Download and read from millions of titles in the iBookstore.
Faces and places — View your gallery photos by who's in them, or where they were taken.
Keyboard support — Pair a Bluetooth keyboard to your iPhone, and type more comfortably.
Cellular data on/off — Now you can choose to turn your cellular data on or off, making travel stress-free!
New contact screen — Things got a lot more organized in the new contact screen, doing away with the green plus signs on the right for a more streamlined look.
Text character count — Now you'll know just how long your texts are with the 160 character count in the SMS text field.
Spellcheck — Now you'll have auto-correct and spell check to ensure that your texts, emails, and addresses are all on the up and up.
Photo resize — Before you send off a photo, you'll now have the option to resize the pic to send quickly and easily.
Contact pics in email — If you receive an email from a pal who has a photo in your contacts, you'll see their pic in the upper right of the email.
And much more to uncover! iPhone 3G and 3GS customers take note — not all of these features will be available to you during the upgrade.