iOS 4 Update in iPhone 3G and iPhone 3GS
iPhone 3G vs iPhone 3GS: What Wasn't Included in iOS 4
Although the iOS 4 software update hasn't gone as smoothly as we would have hoped, there are some solutions to some of your biggest problems — including blurry images and missing tunes. While the iPhone 4 may be getting an early welcome into a few lucky homes, we're taking a look at what iPhone 3G and 3GS users were left without during the iOS 4 update.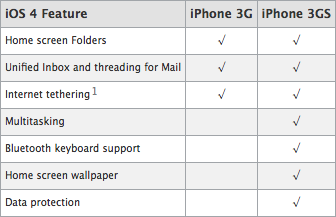 This handy chart should help you decipher it. iPhone 3G and 3GS users are reaping the benefits of threaded emails, home screen folders, as well as Internet tethering (with an appropriate AT&T data plan, that is), while 3GS users get more features like multitasking, keyboard support, and fancy homescreen wallpapers.
A quick tip to all that are thinking of upgrading to iOS 4 — be sure to back up your iPhone and restore when prompted to during the update process. Find out why after the jump.
Choosing to perform a backup when prompted will allow your iPhone to install the update in proper order — after fully backing up your data, iTunes will then perform a factory reset (to start the install fresh), install iOS 4, then add your data and apps back in.