iOS 4.1 Update Available
iOS 4.1 Is Now Available For Download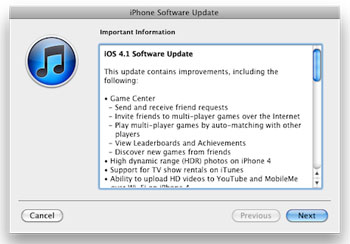 Start your engines — the latest iOS 4.1 iPhone and iPod Touch update is ready to download on your iPhone and iPod Touch! What's the big deal, you ask? Well, not only does this version of iOS 4 include lots of bug fixes — namely proximity sensor issues and better compatibility with the iPhone 3G — but it also includes a handful of new features. Find out what they are when you read more.
New features include HD video uploads to YouTube and MobileMe, HDR Photography mode (which combines multiple exposures to create a better quality pic), the new Game Center app, Ping, and the ability to rent TV shows right from iTunes starting at just $1 each.
The update is available now for free — just hook up your iPhone or iPod Touch to iTunes and download! iOS 4.1 is available for your iPhone 3G, 3GS, and iPhone 4, along with your second and third generation iPod Touch.