iOS 5 Details Including iMessage and Wireless Sync
iOS 5 Gets Plenty of Handy New Features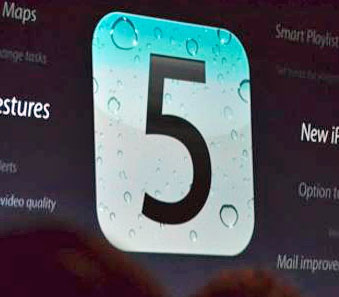 Along with OSX Lion, Apple detailed some of the new additions coming along with iOS 5, which will be available for iPhone 3GS and 4, both iPad versions, and third and fourth generation iPod Touches this Fall. Over 200 new features are coming packed inside the latest updates, but Apple picked a few of the more exciting ones to showcase. Check out what's new below!
Better push notifications — With the new "Notification Center," you'll see your alerts and notifications in the top nav bar (just like Android). And you can see all current notifications with a swipe of your finger down (and without annoying popups).
Newsstand — Just like iBooks, you can download magazines and newspapers via Newsstand.
Twitter integration — Apple has not only added a single sign-on for Twitter, making it easier to sign in, but it's also integrated the microblogging service into many apps, so you can tweet what you're doing from the camera, stories you find in Safari, videos from YouTube, or Map locations. Twitter @replies or notifications will also show up in the new notification center at the top of the navigation bar.
Safari — Apple has open sourced Safari, allowing devs to create more reader-friendly websites (turning them from regular webpages into single, more PDF-like pages). It's also added a "Reading List" for stories you want to save for later (which syncs across browsers on iOS and OSX) and full-tabbed browsing.
Reminders — Instead of taking notes on your iPhone's notepad app or putting a reminder in your calendar, you can now use Reminders in iOS to create a digital to-do list right on your iPhone. The geo-location abilities will trigger surrounding events for you to choose from.
Learn more about other new features coming in iOS 5 (including the BBM for Apple users) after the break.
Camera — There will be a lock-screen shortcut added to the camera in iOS 5, but you'll also be able to use the up volume button to quickly snap a pic. Other features include pinch to zoom, touch auto focus, and immediate editing right from inside the camera app, including red-eye reduction, enhancing, and cropping.
Mail — Mail gets rich text formatting, draggable addresses, indentation control, flag and unflag, and even searches the content of your messages.
Dictionary — The dictionary has been added to the OS, meaning you'll get access in every app.
Keyboard — The iPad will now get a split keyboard to help people who type with their thumbs.
Wireless sync — Finally, Apple untethers us from our 32-pin connectors and allows wireless sync! It's especially great for those who don't have a household computer (since currently you have to connect to iTunes when you get an iPad or iPhone). You'll be able to activate the device without a connection and get wireless over the air Delta updates. (Delta = only updates what's changed, so updates should take less time.)
iMessage — Like BBM for iDevice users, iMessage allows you to send pics, video, texts, group messages, and contacts among iPhones, iPads, and iPod Touches. You can even get delivery and optional read receipts, and it pushes to all three devices if you have them. Works on 3G and WiFi, and messages are securely encrypted.