iOS 5 Japan Earthquake Warning Messages
iOS 5 to Warn of Impending Earthquakes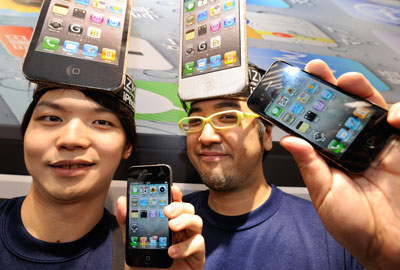 In addition to some of the already-known iOS 5 features, citizens of Japan will get a potentially life-saving inclusion: earthquake warnings. Apple has included a built-in feature that connects Japanese iPhones to the national earthquake warning system and will allow users to opt in to push notifications that alert them of an upcoming earthquake within minutes or seconds before it hits.
Since Japan sits on three different tectonic plates, it sees an average of 1,500 earthquakes annually. And as we saw earlier this year, Japan's warning system can help save lives.
Need to catch up on the other features coming with iOS 5? Check them out after the break.
No more annoying pop-up notifications — How awesome will it be to not have any pop-up notifications interrupting you while watching a video, playing a heated round of Angry Birds, or sending a message? With the Message Center, you'll get all your notifications — from text messages, friend requests, @ replies, and push notifications — at the top of your phone instead of in disruptive pop-up boxes in the middle of your screen. If you've been an Android user in the past, this will look very familiar and could be a big relief for seasoned iPhone users.
Kiss SMS goodbye — This is big: Apple introduced iMessage, which is basically BBM for iPhones and eliminates the need to SMS text other iPhone users altogether. Working over WiFi or a 3G connection, you can send an unlimited amount of text, photo, video, contact, and location messages from your iPhone, iPod Touch, or iPad, get delivery and read confirmations, and actually see when someone else is typing you back. It's all secure over encryption, and it's all free. Data use will apply when sent over 3G, though, so try to use WiFi when available.
Twitter integration — Your favorite microblogging service gets deep integration into iOS 5 and will allow you to tweet photos right from your camera app, webpages in Safari, videos from YouTube, map locations, and from some of your apps. Your friends' Twitter handles will be stored in Contacts, so if you want to draft a tweet, just start typing their names.
New camera features — iOS 5 will bring improved camera functions, including a shortcut to the camera from a locked homescreen and the ability to snap an image using your iPhone's up-volume button when in camera mode (instead of using the touchscreen camera shutter icon). Not only that, but you will be able to edit your pics right in the Photos app (including crop, rotate, enhance, and red-eye reduction). And when activated, iOS 5 will send your images directly to iCloud for safe keeping.
Safari tabs — Finally, no more switching between open screens! iOS 5 will bring tabbed browsing to Safari on the iPhone, iPod Touch, and iPad, along with a "reading list" (a one-tap feature that can save stories to be read later, similar to bookmarking), and "reader" functions, which turns your web pages into clean, clutter- and ad-free PDF-like documents for easy reading.
OTA updating — You may not want to toss your iPhone connectors, but at least you'll be untethered after the iOS 5 update is released. Apple is finally getting over the air updates for the iPhone, iPod Touch, and iPad, which means Apple users will be able to download the latest updates to their devices without plugging into a computer. Bonus — the updates will only include the latest changes, so your downloads won't take forever.