iOS 6 Tips and Tricks
25 of the Best iOS 6 Tips, Tricks, and Treasures
Even though iOS 6 launched in September, there's still much to explore in Apple's latest mobile operating system, as we discovered from Macworld magazine writers Lex Friedman and Dan Moren at Macworld 2013. We've compiled the best tips and tricks from the iOS 6 talk, from asking Siri for public transit directions to making sure your little ones don't accidentally delete or install new apps.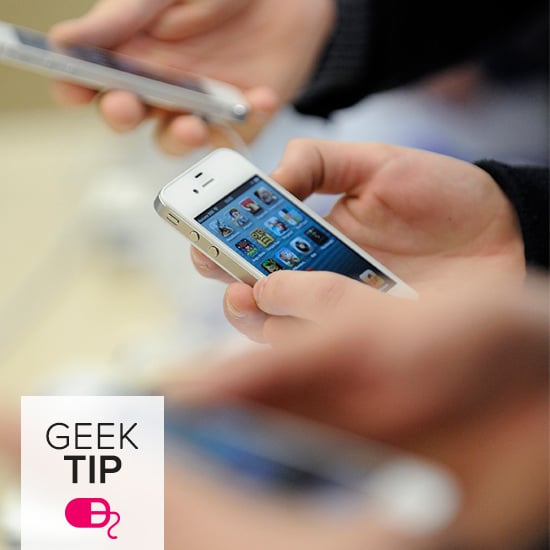 Before we begin, make sure you have the latest mobile OS installed (iOS 6.1, which pushed just last week), and remember to back up your phone before going through with any major changes. Have fun discovering iOS 6's best features, and let us know which tip changed the way you use your iPhone.
Siri
Get public transit directions — Ask Siri, "Get me to [your destination] via transit," and she'll input your destination into the public transit apps already installed on your phone. You can then tap on one of the apps, and you'll be automatically routed via public transit.
Buy movie tickets — She won't hand you a wad of cash, but if you ask, "What's playing at [name of movie theater]?", Siri will offer showtimes and a button to purchase tickets via Fandango.
Find movie reviews and trivia — Ask "Is the Rugrats in Paris movie any good?", and Siri will tell you if that film is certified fresh from Rotten Tomatoes or not. You can also grill Siri with movie trivia like, "Show me movies starring Susan Sarandon and Tim Curry."
Edit fumbled speech — Apple's sharp-witted artificial intelligence doesn't always get it right, in which case you can actually edit her translation instead of trying again. Tap on Siri's translation and then type to edit or press the microphone to use dictation to correct the transcription.
Post to Facebook or Twitter — Tell Siri to "Post [insert status update here] to Facebook [or Twitter]," and as long as you have either account set up in Settings, Siri will post on your behalf.
Read on for more iOS 6 tips, including getting your iPhone to speak in Emoji.
Dictation
Have iPhone read to you — Listen to long articles or books by going to Settings > General > Accessibility > turn "Speak Selection" to on. The next time you select text, a speak button will appear.
Have iPhone Speak Emoji — Once you have "Speak Selection" enabled, your iPhone will "speak" iOS's native emoticons if the emoticons are selected. Enable Emoji by going to Settings > General > International > Keyboards > Add New Keyboard, and hit "Emoji."
Privacy
Prevent little ones from fudging with apps — If your little geek plays Angry Birds on your phone, then parental restrictions will be your new best friend. Go to General > Restrictions > Enable Restrictions and set a restriction code (which is different from a lock screen code). When Restrictions are enabled, you can opt to disable Safari, iTunes, Camera, installing apps (or deleting them), and more.
Enable advanced touch or motion control restrictions — With a feature called "Guided Access," you can disable any button in any app (the back/forward/refresh buttons in Safari, for example) so your little one can't accidentally leave her game. Go to General > Accessibility > Guided Access > Turn to "on." In an app, triple-click the home button to enable guided access, and you can draw circles around the areas you want to be disabled.
Limit ad tracking — iOS 6 introduced a non-personal Advertising Identifier that give advertisers more control over tracking methods in apps. Reset this identifier or limit add tracking by going to Settings > General > About > Advertising > "Limit Ad Tracking."
Managing Storage
See what apps take up the most space — Go to Settings > General > Usage, and underneath "Storage," every app on your phone will appear, along with the amount of space it is using. Tap on any app to delete it.
Free up space in iCloud — Go to Settings > General > Usage > iCloud Storage > Manage Storage to turn off anything you don't need synced to iCloud (like Photos, if you use Photostream) or delete a device backup.
Photo
Take a photo while you're recording video — While recording video, the camera button that shows up can be tapped to take a still. Take note: the photo quality won't be as good as camera mode. Only iPhone 5 has this feature.
Switch Panorama directions — When taking a panorama, tap on the arrow to switch the direction you need to move in.
Email pictures straight from the Mail app — Email pictures from Mail, without going to the Camera Roll, by composing a new message, tapping the body of the email and holding. When options appear (copy, paste, etc.), tap the arrow and hit "Insert Photo or Video," which will take you to the Camera Roll.
Share Photostream with someone not on iOS — If you're uploading your Camera Roll photos to a photo stream, share with a non-iOS user by turning photostream into a "public website" in Settings > Photos & Camera, and share the link with family and friends. The album is not truly public, because nothing in the URL makes it searchable.
Mail
Shortcut to sending messages in drafts — In the Mail app, press and hold the "New Message" button, and a list of your most recent drafts will appear.
"Archive" messages, even if you don't have Gmail — Archiving, one of Gmail's most popular features, is a way to get messages out of your inbox, without having to delete them. Even if you don't have Gmail, enable Archiving in the Mail app by going to Settings > Mail > tap on an email address and turn "Archive Messages" on. A file box will appear instead of a trash can. If you do want to delete, press and hold the file box.
Safari Web Browsing
Shortcut to view browser history — Tap and hold the back button to view your most recently visited webpages.
Open links in the background — If you're reading an article and want to open those links for later reading, have them open in the background by going to Settings > Safari > Open Links and tap "In Background."
Ringtones
Set custom text tone or ringtone — Select a specific person in Contacts, tap "Edit," and click on ringtone or text tone to set a specific sound for that contact. You can also create custom vibration patterns for different contacts in edit mode.
Make custom ringtones on your iPhone — The GarageBand ($5) iOS app lets you create tunes. Once the song is finished, tap and hold the song, and select "Share Song as Ringtone."
Driving: Screening Incoming Calls or Texts
Do Not Disturb while driving — If you use your phone as a GPS device or music device while you're driving, you can't silence incoming calls with the Do Not Disturb feature (which only works if your phone is asleep and locked). However, turning on guided access (Settings > General > Accessibility) will prevent calls or texts and allow you to still use your phone.
Auto-message if you can't take a call — Go to Settings > Phone > Reply with Message to edit your pre-programmed messages. When someone calls, you can hit the Options button, choose Reply With Message, and send any one of the provided messages.
Apple Maps
Swipe through your entire journey — Set directions between two locations, tap "Start," and swipe right to go through your entire route. This feature won't work if you set the directions to or from Current Location, however.
Our takeaway: Become an iPhone power user by getting to know the Settings app. That's where all of the iPhone tips, tricks, and treasures lie!