iPad 2 Accessories
Essential Accessories For Your iPad 2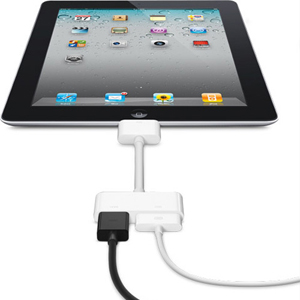 If you took the plunge and bought an iPad 2 today, you probably already know that the buck does not stop here. A shiny new iPad means even shinier new accessories to go with it! Here are our picks for the accessories that are worth buying now — we call it the GeekSugar iPad 2 starter kit:
Cover it up — A new design means that you'll need a new case, er, cover for your iPad. We're partial to Apple's own Smart Cover because it protects the screen while also doubling as a stand when folded back. On top of that, it wakes or puts your iPad to sleep depending on whether or not the case is open. If the Smart Cover is not your style, there are plenty of other ways to cover the new iPad.
Digital AV Adapter — Get excited! The iPad2 has HDMI-out capabilities, which means that all that stuff you have living on your iPad (photos, videos, slides, etc.) can be displayed on the big screen. A great feature whether you're using it for movie night or for that big presentation to the board.
Camera Connection Kit — If you love taking photos, consider picking up the iPad Camera Connection Kit, which allows you to import photos from your digital camera and onto your iPad in two ways: using your camera's USB cable or directly from an SD card.
iPad Dock — While you could fashion a business card holder to keep your iPad upright, the standard-issue iPad Dock works to charge your tablet, and works alongside apps, connections, and speakers.