iPad 2 Event
What Else Do You Want to See at the iPad Event Today?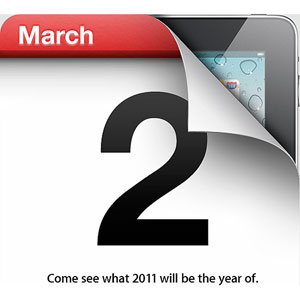 We'll be live at the much-anticipated Apple event today, where COO Tim Cook (and maybe CEO Steve Jobs?) is expected to reveal the next generation iPad. (Be sure to follow along here, on Twitter and Facebook!) But as the invitation seems to suggest, the iPad may not be the only thing in store for us.
2011 is sure to be an exciting year in tech, but according to some rumors, we could also see the launch of the delayed white iPhone, get a sneak peek at the next version of iOS, and could see MobileMe go free for all during this press event. Anything in particular you're looking forward to?