iPad 2 Features
Things We Wish We Saw at the iPad 2 Presentation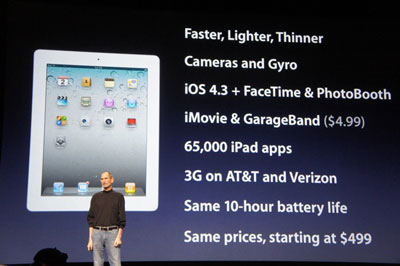 Sure, I may be jonesing for an iPad 2 now (white gadgets get me every time), but I was hoping to see a few more features on the next-generation iPad to make me feel like I could use this tablet for years to come. Of course, you may be on to Apple's ways by now and realize that it releases new features slowly, upgrading little by little every year. However, I don't see any reason as to why these features and items couldn't have been included in the latest version of the iPad.
Check out the features I would have liked to have seen on the iPad 2 in the list below.
Built-in awesomeness — I know it's Apple's way to make you buy dongles to connect all of your extra peripherals and connectors, but a $39 HDMI/AV adapter and $29 SD card/camera connector? I just wish these things were built in to make my life easier and keep me from piling up more cables.
Improved resolution — There was a big to-do about the iPad 2's resolution earlier this year, and speculations indicated that there would be a marked improvement in this area. The iPad 2 is basically the same in the specs department, save for the improvements in graphics and processors and the addition of the cameras. Bummer.
Better cameras — Speaking of cameras, I was a little disappointed to find that the iPad 2 would be stocked with such low-resolution cameras. The iPhone 4 has better cameras than this thing! I'm betting we'll see improvements here with the iPad 3.
See the rest of the list after the break.
Memory info — No one is talking about memory, and I have no idea how much is packed in the iPad 2. One reporter says that the iPad 2 has just 256MB of memory available. And in case you're wondering — that's not much.
4G — 4G got some serious screen time at this year's CES, and if 2011 is also the year of 4G speeds, then the iPad will be left behind. While other tablets will be able to upgrade to 4G when it's more readily available (ahem, the Motorola Xoom), there was no mention of this at Apple's press conference yesterday.
The white iPhone — Seriously, if the white iPad 2 is set to drop in a matter of days, there's no reason why we shouldn't be able to get the white iPhone 4 already. It's possible that Apple has decided to push that off until the iPhone 5, but if that's the case, I'd like to know. Just sayin'.