iPad 2 Rumors 2011-01-18 09:05:04
New iPad 2 Cases Sport Rear Camera, SD Card Slot, and More
A Chinese accessory maker has been showing off its new iPad 2 cases, and they're coming with a lot of new ports. AppleInsider got its hands on some photos of the cases in question, and here's what they're sporting: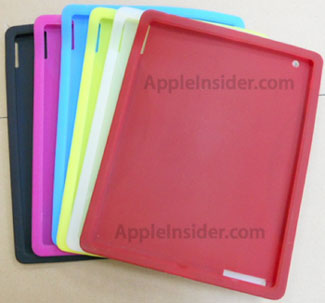 Rear-facing camera
Possible mini DisplayPort
Possible SD card slot
Speaker port
Dock connector
Volume and mute switch
We already had suspicions that the iPad 2 would be coming with a rear-facing camera and speaker port for better sound, but the SD card reader and mini DisplayPort make the iPad 2 extra exciting. Find out why I'm stoked for these new additions after the break.
First off, the addition of an SD card reader will allow you to upload your pics right to your Facebook page and Flickr account and your videos to YouTube without ever needing to break out your SD card reader attachment and/or your larger computer. So you'll be able to enjoy that nice, crisp HD Retina display screen that's rumored to be coming with the iPad 2 more often. It really will be your all-in-one media device that you can use on the go with minimal attachments.
Second, the mini DisplayPort will let me use my iPad as a secondary (or tertiary) screen while I'm working, without buying third-party apps or attachments. I've often waxed poetic about having more desktop real estate, and the iPad would work perfectly as my dedicated Twitter screen, IM chat window, or even my Facebook page so I can stay connected during work hours. Additionally, the mini DisplayPort could be used to connect to a full-screen HDTV with the right connectors, so you could watch flicks on your big screen, even if you don't have an AirPlay-enabled Apple TV.