iPad Air vs. iPad Mini
Tablet Indecision 2013: iPad Air vs. iPad Mini Retina
Two new iPads are joining the Apple family in November: the iPad Air, released on Nov. 1, and the iPad Mini, which gets a processor upgrade and a Retina display when it hit stores later this month (no official release date yet). So should you run to the store and trade in an old iPad for the slim build of the iPad Air, or wait just a few weeks for the iPad Mini, which shares all of the same internal specs as its two-inch bigger tablet sibling? We break down which features matter when making your tablet decision below.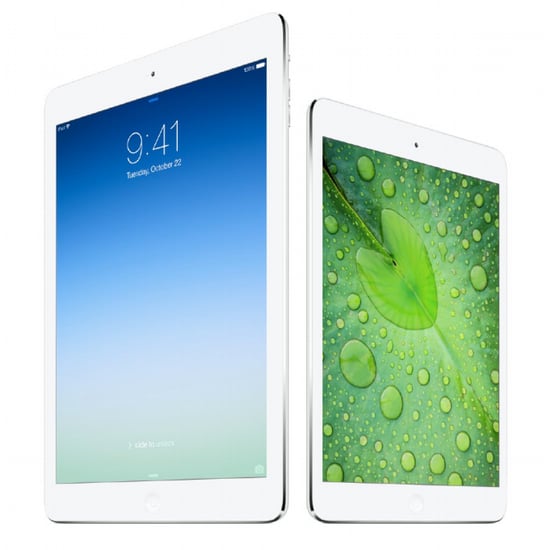 The Working iPad
When opting for the ease of a tablet over the bulk of a laptop while traveling for work, you still want as much normal functionality as possible. That means a bigger screen for poring over documents and a display that can handle power typing, whether it be on the screen or with a Bluetooth keyboard. This is when you want the iPad Air. The 9.7-inch screen feels more substantial for the actual physical act of typing a report, but that slightly bigger screen is also better on your eyes when the day is spent staring (or squinting) at emails.
iPad as Photographer
In Apple's new decision to make the iLife suite of apps free on iOS 7, iPhoto and iMovie will have you a multimedia editing pro. But how to capture the media to use with the software? That's a choice that can make a difference in which iPad is right for you. The iPad Mini is considerably less awkward to actually use as a camera than the iPad Air, which would require two hands for use, if you don't want to drop it, that is. If you plan on using your iPad to not only store memories, but also capture them, the Mini is a more convenient option.
Price Comparison
When you're already looking at a $929 (iPad Air with 128GB and cellular), the $100 difference of an iPad Mini Retina with the same features might not come into play as a key deciding factor. However, when choosing between the 16GB WiFi version of each, the value is with the iPad Mini. You'll get the same HD display, battery life, and quick-moving A 7 processor as the Air and not feel guilty for also adding accessories and cases to the deal.
Take a look at the specs below to see just how identical the two tablets are. With the similarities in mind, which tablet will you go for?
iPad Air
iPad Mini Retina
Display
9.7-in.; 2048 x 1536; 264 ppi
7.9-in.; 2048 X 1536; 326 ppi
Size
9.4 x 6.6 x .29 in.; 1.05 lbs.
7.87 x 5.3 x 0.29 in.; 0.75 lbs.
Battery
10 hours
10 hours
Memory
16, 32, 64, or 128 GB
16, 32, 64, or 128 GB
Processor
A7 chip, M7 motion coprocessor
A7 chip, M7 motion coprocessor
Rear Camera
5 MP; f/2.4 aperture; 1080p video; 3x video zoom
5 MP; f/2.4 aperture; 1080p video; 3x video zoom
Front Camera
1.2 MP; 720p video
1.2 MP; 720p video
Price
WiFi: $499 (16GB), $599 (32GB), $699 (64GB), $799 (128GB);
Cellular: $629 (16GB), $729 (32GB), $829 (64GB), $929 (128GB)
WiFi: $399 (16GB), $499 (32GB), $599 (64GB) $699 (128GB);
Cellular: $529 (16GB), $629 (32GB), $729 (64GB), $829 (128GB)