iPad Owners Are "Selfish Elites"
Study Calls iPad Owners a Group of "Selfish Elites"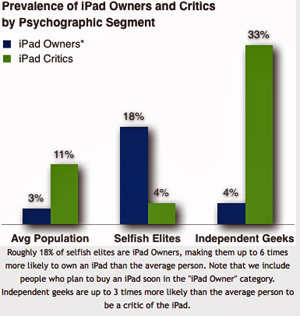 While it might not be a very scientific study, a psychological profile of iPad owners says they're "selfish elites," while iPad critics are given the pretty sweet moniker of being an "independent geek."
The consumer research firm MyType surveyed 20,000 of its Facebook users, and found that the hip and savvy iPad owners portrayed in Apple ads are a big lie. Hear more about the (harsh) results of the study after the jump.
According to the study, iPad users are an "elite, wealthy, and power hungry" bunch that cares more about business and finance than they do about literature, movies, video games, and helping people. Ouch. And here I thought they were just a group of early adopters! Critics of the Apple iPad, meanwhile, are non-conformists who are into science, the Internet, and Linux. They're also mostly men.
But before you let this news upset you, and hide your iPad in shame, keep in mind that these findings only represent about 15 percent of the MyType survey. And, also, that the study is probably not as random as it could be. What really struck me was that most people in the survey didn't care that much either way. This is probably due to the fact that they were too busy watching Ryan Reynolds recite the Green Lantern oath.