iPad Speaker Dock
iPad Speaker Dock: Love It or Leave It?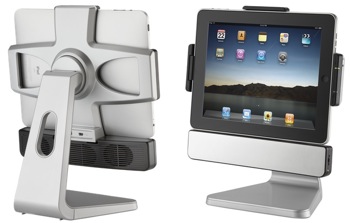 You went to the Apple store to get an iMac, but all you got was this tiny iPad. If this sounds like you, fear not — you can make your iPad feel like a mini iMac with the iPad Speaker Dock ($100).
Boosting your iPad's sound to 11 with the included pair of 3-watt speakers, movies will now sound a heck of a lot better, and you'll be able to watch for longer with the dock connector and sockets for charging. Toss in the fact that you can spin this baby 360 degrees, and your iMac begins to look a little . . . stale. Still, $100? Not sure it's in my budget, but I still kinda love it. What do you think?