iPad iOS 4.2 Details
New Features in iOS 4.2 For iPad: Multitasking, Printing, Airplay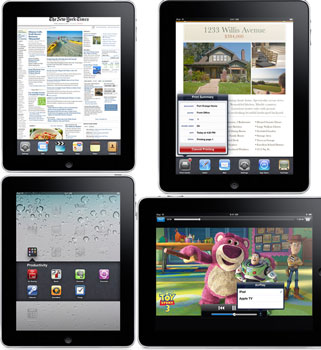 We briefly touched on new iPad features coming with the iOS 4.2 update during the Apple press event liveblog, but now that the iOS 4.2 feature page is live on Apple's website, we can take a closer look at what it's packing. Multitasking, Airplay, and printing are the heavy hitters, while folders will make a welcome entrance. Find out more about each of these new features below!
Airplay — Airplay allows you to run a movie or TV show you've purchased on your iPad and stream it wirelessly to your big screen when paired with an Apple TV. This is a big benefit, since the new Apple TVs are sans storage.
To see the rest, just keep reading.


Multitasking — The iOS 4 feature you know and love on your iPhone is coming to the iPad. Switch between apps and run multiple apps in the background.
Printing — Probably one of the biggest features missing from the iPad was the ability to print. You can do it now with a workaround app, but now printing will be a native feature in iOS 4.2 with a wireless connection.
Folders — Organize your iPad's desktop with folders! Group your business apps, social apps, and games together to create a clean space.