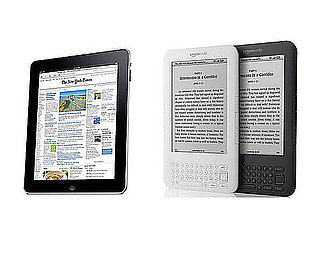 I've described my love for all things Kindle before, and I love that there are plenty of ereaders around for us to choose from. After all, anything that encourages more reading and helps out the publishing industry is great in my book! But have you ever thought about what kind of ereader you are? Nielsen wanted to know and surveyed 5,000 users to find out. Check out these facts after the break to see if you skew Kindle or iPad.
iPad owners are younger than Kindle users. Sixty-three percent of them are under the age of 35 compared to 47 percent of Kindle users.
More men are iPad owners than Kindle owners. Sixty-five percent of iPad users are male, compared to 52 percent of Kindle users.
Kindle owners are wealthier. Forty-four percent of them make more than $80,000 a year compared to 39 percent of iPad owners.
Kindle users have more education: 27 percent of Kindle owners have master's degrees or doctorates.
iPad owners are more receptive to advertising on their tablet than Kindle users.
iPad owners like ads on their device more than other ereader users: 39 percent of iPad owners say ads on their connected device are new and interesting, compared to 19 percent of all of the other ereader users Nielsen surveyed.
iPad owners are more likely to have made a purchase as a result of seeing an ad on their connected device.