iPads in JFK's Delta Terminal
iPads Hit the Delta Terminal at JFK Airport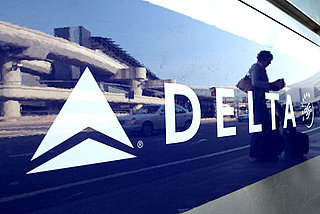 Holiday travelers aren't the only things we'll see more of in airports this season; iPads for travelers' use have just hit the Delta terminal at New York's JFK airport. Two-hundred iPads are being used, mostly in eateries, to help streamline travelers' experiences, adding a nice touch of technology to an often stressful experience.
Travelers can order food from one of these stationary iPads and have it brought to them, not unlike the similar, but iPad-less, service in the same airport's recently renovated JetBlue terminal. You can also use the iPads to access the Internet and check email, though I'd recommend triple-checking that you've cleared any personal information for fear of sharing your private details with the flying masses.
So far, there's no plan to impose a time limit, but that could change if Apple Store-like lines start queuing up around the devices.