iPhone 3G Issues After iOS 4 Upgrade
Apple Investigating iPhone 3G Issues After iOS 4 Upgrades
Apple is going through quite a rough patch lately — from iPhone 4 hardware problems, to lawsuits, to Safari security concerns — and now the headlamp is on iOS 4 and the kinds of reported issues it's causing for iPhone 3G owners.
When iOS 4 was first released, we saw a few hiccups ranging from missing tunes to blurry pics, but those were all able to be fixed relatively quickly. However, continued user complaints of overheating, slow operations, and excessive battery drainage on Apple's forums raised a red flag for the company, who is now looking into possible compatibility issues between the iPhone 3G and iOS 4.
I've personally seen these exact issues occur with a relative's iPhone 3G after upgrading to iOS 4. Her iPhone 3G was speedy pre-upgrade, but chugged along at super slow speeds and did seem to get a lot hotter after installing iOS4. Unfortunately, she's stuck with the problem until Apple releases a fix or is able to downgrade back to the previous OS.
Of course, we already know that not all of the features of iOS 4 work on the iPhone 3G, but if you want to take your chances with an upgrade and need a refresher on the kinds of perks you'll get, just keep reading.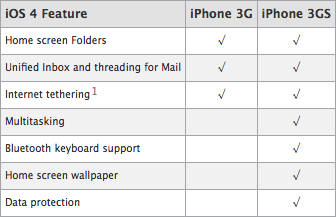 iPhone 3G users are reaping the benefits of threaded emails, home screen folders, as well as Internet tethering (with an appropriate AT&T data plan, that is), while multitasking, Bluetooth keyboard support, and home screen wallpapers are amenities that are strictly for 3GS and iPhone 4 users.