iPhone 4 Cases
Case-Mate Releases New iPhone 4, iPad Cases
When it rains, it pours! There's been an onslaught of iPhone 4 cases since the launch earlier this Summer (which is to be expected, right?), and now Case-Mate is jumping in the pool head first with a few new lines of their own, which include radiation-reducing designs, and high-end cases for the iPhone and iPad alike, which spawn from new partnerships with Nordstrom.
First up, the lush Venture Case for iPad and Barely There Case for the iPhone 4, which were both made in partnership with Nordstrom. The Venture iPad case is portfolio-style, and flips open to create a stand for your tablet. Barely There offers protection from the harsh outside world with a hard shell, but keeps you on the leading edge of trends with the vibrant colors and snakeskin texture. Also from the Nordstrom partnership is the Bumper-like Hula Case, which is open in the front and back to give your iPhone 4 some breathing room, but protects the edges of your device with impact-resistant materials.
Find out more about the new radiation-resistant Bounce series, and Pop! lines when you read more.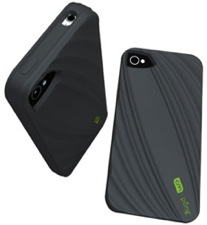 The new Bounce series for iPhone 4 doesn't just protect your phone from bumps and bruises, but it protects your health by deflecting 60 percent of circuit board radiation, and re-directs 85 percent of "hot spot" radiation from your handset. The Bounce series also comes in styles for your BlackBerry 8520, 9650, 9700, and 9800 models.
Finally, the Pop! series was inspired by the mod designs of classic Hollywood cruisers. Gripping your iPhone 4's curves, the Pop! case gives a thin layer of protection, and comes in an array of colors including basic black and white, along with purple, pink, red, green, and blue.
Check out the images from all the cases below!