iPhone 4 Design Flaw Causes Cracked Back
Uh-Oh, Is There Another iPhone 4 Design Flaw?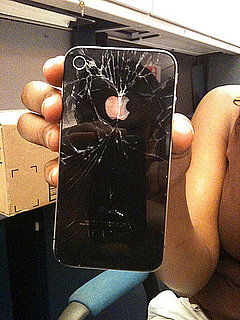 Apple's free case program ended last month, but some users who did take advantage of the free cases to protect their devices may soon become acquainted with another design flaw, one that could lead to serious cracking. Apparently, some slide-on cases may cause tiny cracks in the glass on the back of your iPhone if small pieces of debris are caught in between the phone and the case. And those tiny cracks can quickly turn into much larger cracks, even if you keep the case on.
Find out what Apple may be doing to deter any potential problems after the break.
Until this week, the only iPhone 4 cases available from the Apple store were the Apple-produced Bumper cases, with no slide-on cases to be found. And some think that this is because Apple is aware of the potential for these cases to cause cracks and shattering through no fault of the user — they didn't want to officially endorse a slide-on case that, once removed, might show a scratched, cracked, or even shattered iPhone 4. Although more cases are now available on Apple's site, retail locations don't have them.
Perhaps this explains why people close to the development of the iPhone 5 say it will have a completely different form factor than any current iPhone.
Source: Flickr User RichieC