iPhone 4 Liveblog and Details From WWDC
2010 WWDC: The iPhone 4 Makes Its Debut
Steve Jobs introduced the iPhone 4 to the crowd at the 2010 WWDC today. Coming with over 100 new features, Steve introduced eight of them this morning, the most obvious of which is form factor. Made of glass and steel, Steve compared it to an old Leica camera.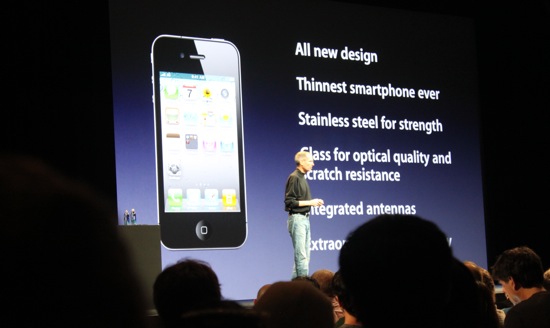 Coming in at 9.3MM thick, it's 24 percent thinner than the iPhone 3GS — the thinnest smartphone on the planet. A few other external features include the usual volume controls, a front-facing camera, a receiver, Micro SIM tray, camera and LED flash on the back, a mic, 30 pin connector, and a headset jack, second mic for noise cancellation, and a sleep/wake button. The iPhone 4, available in black or white, is priced at $199 for the 16GB model and $299 for 32GB with a two-year contract. Preorders start June 15, and the iPhone will be available starting June 24. And if you're eligible for an upgrade from AT&T any time during 2010, you are automatically eligible for the new iPhone upgrade now.
Find out more about the iPhone after the break.
iOS 4.0 — announced in April, iPhone OS 4.0 will come standard on all new iPhones, and will also be added to the iPhone 3GS.
Facetime (aka video calling)— This exciting new feature works over a WiFi connection from iPhone 4 to iPhone 4 with no setup required. And it works using the front- or rear-facing camera.
Retina display — iPhone 4 displays 326 pixels per inch, which gives you a clearer picture and sharper text. Also has 78 percent of the pixels of the iPad, right on your iPhone.
While some thought the seamed design was not Apple-like, the stainless steel band that runs around the phone is part of the antenna system — integrated into the phone's structure.
iPhone 4 is powered by the A4 chip, which makes this phone super fast and allows seven hours of 3G talk and six hours of 3G web browsing.
Gyroscope — Gaming just got better with the addition of a gyroscope. A 3-axis gyro that comes with pitch, roll, and yaw, rotation about gravity, as well as six-axis motion sensing.

New camera system — A 5MP back-facing camera comes with a backside illuminated sensor (to keep low-light pics bright), along with a 5X digital zoom and an LED digital flash. The camera also records HD video and comes with the familiar in-phone editing features, along with the brand-new iMovie for iPhone software ($5).
iOS 4 — Taking away the "iPhone" from the title (since it's available on the iPad), the iOS 4 will come standard on each iPhone 4 with over 100 new features.
iBooks — Making its way from the iPad, iBooks and the iBookstore will come stocked with every iPhone 4. Not only can you read titles on either your iPad, iPod Touch, or iPhone 4, but you can download the same book to all your devices for no extra charge, and iBooks will automatically sync your bookmarks, notes, and last page read across all platforms.
iAds — Interactive, attractive banner ads pop up and keep you within apps, instead of kicking you out into a browser.