iPhone 4 Review Hands-On
Apple iPhone 4 Hands-On!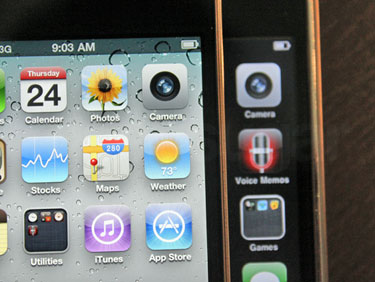 In case you missed it, the iPhone 4 is here! I stood in line just like everyone else to get my hands on the new smartphone and wouldn't have had it any other way — despite the chilly weather, fans were happy to be there, anxious to get inside, and we all made the best of our time there alongside friends, family, and colleagues.
As for the phone? Well, I already had some one-on-one time with it after the WWDC keynote earlier this month, but after seeing it again the second time, it was rather clear that this iPhone was miles ahead of its predecessors. Get the lowdown on the latest iPhone below!
Design
According to some of the people I talked to in line, design alone is reason enough to pick up an iPhone 4. Comparing it to a 3G or 3GS just makes the previous models look clunky and outdated. Plus, it feels lighter in my hand, and the slim lines really make for an attractive gadget. It was love at first sight.
Display
Like I said before, I had some time with the iPhone 4 at WWDC, but being able to see it in the daylight, low light, and Apple store lighting situations, I really got a sense of how amazing this screen is. It's crisp, sharp, and easy on the eyes — I could see myself reading on the iPhone for hours.
Hear the rest of my thoughts on the speed, cameras, and multitasking and see more pics after the break.
Speed
Switching from app to app is super fast, and the upgraded processor makes the whole operation seamless. I had 21 apps open at once, and the iPhone still held up to the challenge.
Camera
The rear-facing 5MP snaps up clear images and (720p) video with the quickness, while the front-facing VGA camera had me wishing I had applied more makeup this morning! All kidding aside, the VGA camera will do the trick (and is quite clear) when chatting on FaceTime or capturing self-portraits. Not bad at all, I'd say!
Multitasking
Sure, it's not true multitasking, but what it does, it does well. I don't mind having to pull up the app drawer in order to switch apps, but I do miss my double tap for favorites trick!
Folders
Some people hate how folders break up the iPhone's aesthetic. Me? I love it. You can hold up to 12 apps in one folder, which is super helpful if you have, say, 10 social networking apps lumped together (Facebook, Loopt, Twitter, LinkedIn, etc.), which makes for easy hunting. Plus, if you want to have a folder for just your most frequented apps, you can totally customize that folder the way you want it.
Stay tuned for a full review coming soon — there's so much more to see!