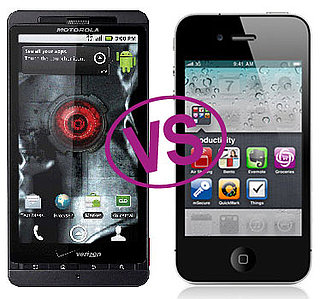 Although Apple pulled a sneaky move today and issued a statement about the white iPhone 4's availability just moments after the Droid X presentation was complete, that couldn't stop us from sitting up and taking notice of all the features the newest Droid has to offer.
The reviews of the Apple handset are pretty conclusive — it's the best smartphone on the market today — but the Droid X is quickly gaining on the iPhone. We all thought the HTC EVO 4G stacked up to the iPhone pretty well (save for that whole battery life issue), but the Droid? Well, it's pretty clear that the Android-operated smartphone has something to brag about on its own. Check out my rundown of important features and see how these two phones stand up to each other after the break.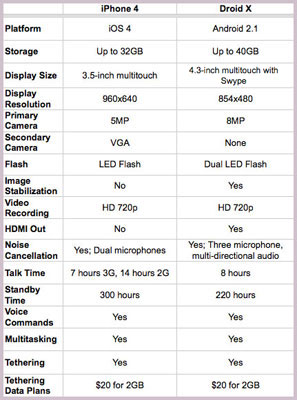 Obviously the Droid X and iPhone 4 are comparable in almost every way — nice, crisp displays, voice commands, tethering, HD video and 720p video recording, but the Droid X has a few features that the iPhone is lacking. For example, the Droid X comes with double the LED flash on its 8MP camera (versus the iPhone 4's single LED flash on its 5MP camera), image stabilization, three microphone noise cancellation for crisp calls, and an HDMI out to watch videos on a bigger screen.
However, the iPhone 4 pulls ahead in display resolution and comes with a secondary camera, which is perfect for video chatting. As for the price? Well, the 16GB iPhone 4 starts at $199 while the Droid X comes stocked with 24GB for the same price. However, you can expand your Droid X to 40GB for around $50-$75, whereas you'll be spending an additional $100 for a 32GB iPhone 4. Which would you choose?