As you may know, one of my favorite things in the world is my Flip video camcorder. I can take that baby anywhere and capture memories in brilliant HD. But with the announcement of the new iPhone 4 at yesterday's WWDC keynote will I need to tote both around in my bag? Probably not. Here's why: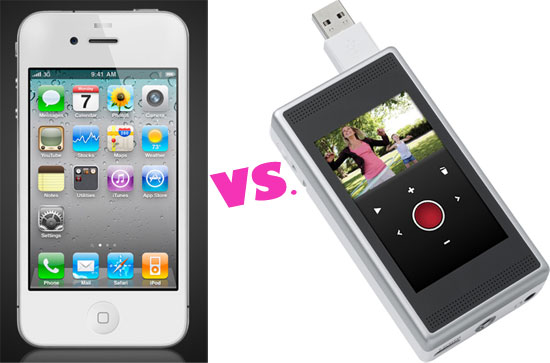 Although the iPhone 4 and new Flip SlideHD both offer 720p shooting at 30 frames per second, a touchscreen, and portability, the iPhone pulls ahead with extra features and price. Find out more about the comparison after the break.
Costing just $199 for the lowest-priced iPhone 4 with a two-year contract (versus $280 for the Flip SlideHD), the iPhone 4 also gives you apps, phone calls, access to social networks, and iMovie for in-app video editing. Plus, with access to new apps like Netflix and iBooks, you're getting your money's worth in the iPhone 4, while the Flip SlideHD can only offer video. Will I be tossing out my Flip? No. But the iPhone 4 sure is giving portable camcorders a run for their money.