iPhone 5 Apple News & Updates
iPhone Event Live Updates
Since news of today's iPhone event was made official, we've been anxiously waiting for Apple's unveiling of an updated iPhone.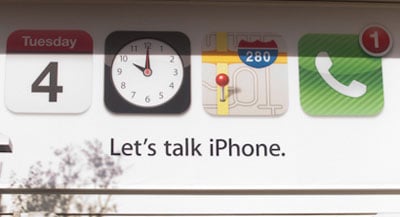 Here's the latest from the event:
Availability — iPhone 4S preorders can be made on Oct. 7, and will be in stores on Oct. 14. The iPhone 4S is available in black and white for the following prices: 16GB is $199, 32GB is $299, and 64GB is $399. That 64GB is the largest capacity for an iPhone yet. The iPhone 4 in black and white will be $99, and the 8GB iPhone 3GS is free.
Hello, Sprint — Sprint has been confirmed as a carrier of the new iPhone 4S along with Verizon and AT&T.
Siri intelligent assistant and voice recognition software — Talk to your device any way you like, and have it answer your questions in a nonrobot way. Siri describes the weather, sets up personal reminders, searches Wikipedia for you — basically can do everything on the phone for you. Siri has built-in support for English, French, and German (for now). The catch: it's only available to the new iPhone 4S.
iPhone 4S — Looks just like the iPhone 4, but includes an A5 processor chip designed by Apple, which is 2x faster than its predecessor and is a world phone, meaning it supports both GSM and CDMA networks. Graphics are 7x faster than the iPhone 4. The battery runs on eight hours of 3G talk and 10 hours of video play. Apple says the iPhone 4S is just as fast as what competitors call 4G service, if not faster.
iPhone 4S camera — Rumor confirmed! The iPhone 4S WILL have an 8MP camera and takes HD video at 1080p. According to All Things D, it'll also have added backside illumination with a sensor that gathers 72 percent more light, a hybrid IR filter for better color accuracy, a five-element lens that offers 30 percent more sharpness, a f/2.4 aperture, face detection, and improved auto-white balance. Takes the first image in 1.1 seconds.
iPod touch updates — According to Apple, it's the most popular portable game player in the world.
Fitness junkies — The iPod nano will have fitness monitors right out of the box. No extra gadgets needed. The screen will also have 16 different clock faces for more creative exercise. It comes in seven colors starting today: 8GB for $129 and 16GB for $149.
iOS5 updates — iOS5 will be available on Oct. 12 as a free update for iPhone 4, iPhone 3GS, iPad 2, iPad, and the third and fourth generation of iPod Touch.

Expect a new Notifications center. iMessage is a new messaging service for iOS users. Send texts, photos, and videos, which is then synced to all your iOS devices. Twitter is deeply integrated in the OS updates. The camera updates are designed with the user in mind. Take a photo with the volume "up" button and edit photos within the camera app.

Find My Friends app allows you to create a list of friends and family to share your location with for a set amount of time. According to Ars Technica: "Easily locate friends & family, temporary sharing option, simple privacy, parental restrictions too."
"Three out of every four tablets sold in the US are iPads," says Tim Cook. Over 18 billion apps have been downloaded from the App Store, that's 1 billion per month.
Wowza! iTunes has had over 16 billion songs downloaded.
While CEO Tim Cook is on stage showing the crowd the beautiful Hong Kong Apple store, Gizmodo reports a curious addition to the Apple store servers: a Sprint logo. New mobile carrier?