iPhone 5 Rumors and iPad 2 Data Pricing
Apple: New iPhone 5 Rumors and iPad 2 Data Plan Pricing
New Apple rumors to sink your teeth into this morning, one concerning the data pricing plans for the iPad 2, and one new development for the iPhone 5. We tackle both below.
iPhone 5 Rumors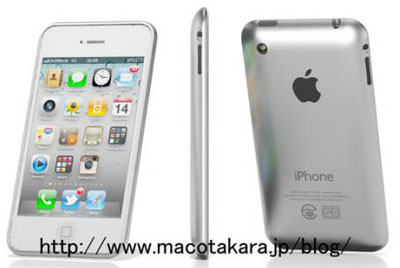 Everything we know about the iPhone 5 isn't too far off. In fact, new rumors indicate that the next generation iPhone could come with an aluminum casing (similar to the mock-up shown here), ditching the ultra-fragile glass back coming with the iPhone 4. It would look more like the iPad 2, in that it's smooth and has rounded edges. Finally, Apple is said to be ditching the problematic iPhone 4 antenna design we heard so much about last Summer. While no release date has been narrowed down just yet, I've still got my money on June 23.
Find out how much the iPad 2 data plans will cost you at both AT&T and Verizon after the break.
AT&T
AT&T is continuing its $25 for 2GB of data for the iPad 2, but the good news is, the original unlimited data plans will be grandfathered in as well. So if you signed up for a $30 unlimited data plan for the first iPad (before AT&T discontinued it a month later), you'll still be able to keep that unlimited plan if you choose to upgrade to the iPad 2.
Verizon
Verizon is offering up new data plans for all 3G tablets, and they look a little something like this (all prices are on a per-month basis):
$20 for 1GB ($20 for every 1GB over)
$35 for 3GB ($10 for every 1GB over)
$50 for 5GB ($10 for every 1GB over)
$80 for 10GB ($10 for every 1GB over)
So what do you think — are you going with Verizon or AT&T for your iPad 2?