iPhone 5C Pros and Cons
The Candy-Colored iPhone 5C: Weighing the Pros and Cons
After much speculation, Apple's phone for the everyman, iPhone 5C, made its public debut at Tuesday's Apple event at its Cupertino, CA, headquarters. The candy-colored device is billed as an affordable device "for the colorful" and a perfect complement to iOS 7 — but is it right for you?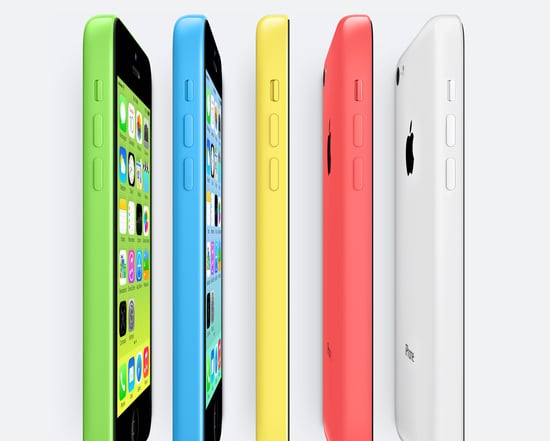 Before the iPhone 5C is up for preorder on Sept. 13, weigh the reasons why you should or should not buy Apple's latest smartphone.
Pros
Cheap (on contract) — With a two-year contract, the iPhone 5C costs $99 for 16GB and $199 for 32GB. That's $100 off the iPhone 5 and iPhone 5S. Off contract, the phone is $549 for 16GB (yikes).
Lots of iPhone 5-grade features — The iPhone 5's A6 chip, Retina display (326 ppi), 8MP iSight camera, and 720p FaceTime camera will be found in the iPhone 5C. The former flagship iPhone 5 will no longer be sold.
Global LTE bands — More LTE coverage is available on the 5C, which has up to 13 LTE bands. Travelers can now use fast data speeds in more places around the world.
Battery life — A higher capacity battery is one edge the 5C (10 hours of talk time) has over the 5 (eight hours of talk time).
iOS 7 — It gets iOS 7, the new bright and beautiful mobile OS! In fact, Jonny Ive said that iOS 7 is designed to match the 5C (with those bright colors, we suppose).
Cons
No option for black — Those who favor darker hues will not find comfort in the iPhone 5C. There is no black iPhone 5C.
Plastic — The 5C's polycarbonate shell is reinforced with a steel frame, so we're not sure if it'll behave like other plastic-backed phones. In our own experience, plastic has a tendency to break and crack since it's a rigid material, and it's less durable than metal.
Limited storage — The iPhone 5C is limited to 16GB and 32GB, with no 64GB option.
Heavier — At 4.65 ounces and 0.35 inches thick, the 5C is heftier and thicker than the 5 and 5S (both are 3.95 ounces and 0.3 inches).
No Touch ID — That incredibly awesome fingerprint sensor on the iPhone 5S is missing from the 5C.
Final Verdict
The iPhone 5C is a pretty easy sell: iPhone 5-grade specs at a relatively affordable price, great color options, and travel-friendly connectivity around the globe.
If you've already got an iPhone 5, an iPhone 5C might feel like an upgrade with its longer battery life, but its heft will certainly weigh you down. If you've got an iPhone 4 and don't have the funds to purchase an iPhone 5S, then the upgrade to the 5C is definitely your best bet. Preorder the phone on Sept. 13, and you'll receive it on Sept. 20.