iPhone 5S in Australia
The Land of Oz Gets the First Crack at the New iPhones
Apple Store mania has begun. Sales of the iPhone 5S and iPhone 5C kicked off in Australia, where local Apple Stores began handing out the new smartphone at 8 a.m. local time, nearly 12 hours before the US, during what was still technically our Thursday.
Jimmy Gunawan was lucky number one at Apple's flagship retail store in Sydney. He left clutching two new iPhone 5Ss, but did not specify whether or not he opted for gold.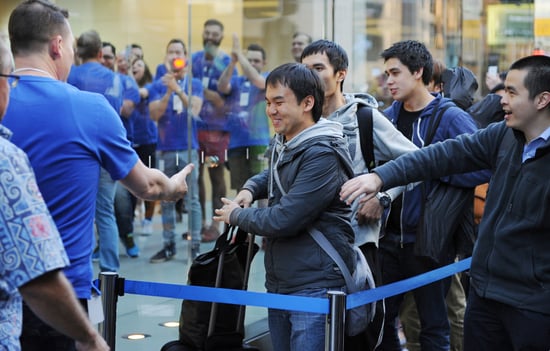 Both the iPhone 5S ($199 for 16GB, $299 for 32GB, and $399 for 64GB) and iPhone 5C ($99 for 16GB and $199 for 32GB) launch worldwide on Sept. 20. Will you brave the lines? If you're undecided, we broke down the pros and cons of the new phones to help you decide if they're worth it.