iPhone 5S Release Date
The iPhone 5S: A Gilded, Fingerprint-Scanning Phone
Gold was king Tuesday when Apple announced the iPhone 5S — the next-generation smartphone available in a trio of metallic colors: gold, slate (blackish), and "space" gray. Replacing the iPhone 5 completely (though the 4S will still be available for purchase), the iPhone 5S is faster, with a few key additions to the camera, use as a fitness tracker, and fingerprint recognition.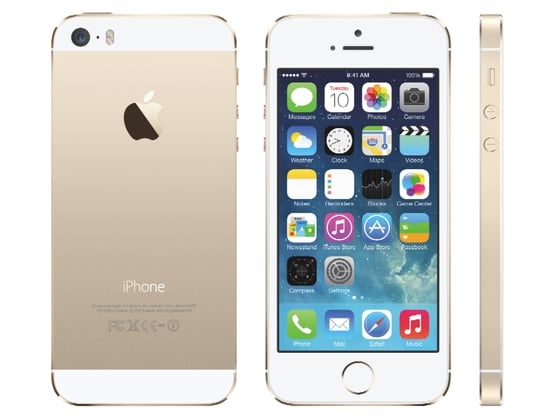 Hailed by the company to be the first smartphone with a 64-bit chip, the A7 processor is said to enable a new generation of apps that move faster and let mobile games play more like their desktop brethren. What is that new chip bringing to the iPhone 5S? Get the details you're looking for on Apple's new flagship phone below.
Motion Processor
Hoping for a surprise iWatch appearance today? Rather than a separate body tracking device, Apple explained, the 5S will include an M7 motion coprocessor, measuring motion data, and accelerometer. Like a fitness tracker or smartwatch, the sensors identify with fitness apps when the user is stationary or running to work. Nike has already developed a new app specifically for the 5S's capabilities: the Nike+ Move.
Camera
As Apple explained on stage, the iPhone didn't get more pixels; it got bigger pixels. The 8MP camera now has 1.5µ pixel, with a 15 percent larger active sensor and F2.2 aperture. The flash has been replaced with two LED lights — called True Tone by the company — one cool and white, the other warm and amber, which when used together will lessen the harsh colors that flashes tend to create in pictures.
A new burst mode, which takes 10 pictures per second and then selects the best for your use, is also in the camera, along with a slow-motion video feature and the ability to take a still image while capturing video.
Fingerprint Recognition
To enhance the security of the phone and safety of smartphone users who have become targets of thieves, a major addition to the iPhone 5S is the fingerprint sensor to unlock the phone. Part of the home button, the Touch ID sensor uses a hi-res image of your finger and analyzes it from multiple angles for an accurate reading. Storing multiple IDs is possible on the phone, should users want to let certain family members access the device.
Months after information leaked of the NSA spying on many Americans' digital information, personal digital security is a major concern for many, and not just from thieves. Apple says all fingerprint data is encrypted and stored solely on the iPhone 5S itself, never Apple servers or on iCloud.
Essential Specs
4-inch Retina display, 1135 x 640, 326 ppi
8MP iSight camera with 1.5µ pixels, f/2.2 aperture
1080p HD video, 30fps
1.2MP FaceTime Camera, with 720p video recording
8-hour battery life on 3G, 10 hours on LTE, 10 hours on Wi-Di
A7 Chip with 64-bit architecture, M7 motion coprocessor
4.87 inch height x 2.31 inch width x 0.3 inch deep
3.95 oz.
Available on AT&T Sprint, T-Mobile, and Verizon
802.11a/b/g/n WiFi (802.11n 2.4GHz and 5GHz)
Bluetooth 4.0
The iPhone 5S starts at $199 for 16GB, $299 for 32GB, and $399 for 64GB devices and is out in the US, Canada, the UK, and other countries Sept. 20.