iPhone Camera Apps For Holiday Photo Fun
5 iPhone Apps For Fun Holiday Camera Phone Photography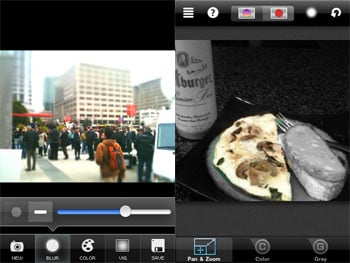 The holidays aren't just for gift giving and gorging yourself on Christmas dinner, it's also the perfect time to snap some amazing images of your family, holiday decorations, and the frightful weather. These apps can help you create interesting, unique, and fun images all season long! All under $3, you can load up your iPhone before heading off to grandmas on the cheap.
Tilt Shift Generator ($1) — Make your holiday tree, family, or group pics look like miniature versions of themselves with this fun app.
ColorSplash ($1) — Call attention to the tree, or your favorite dinner dish with this app that lets you color in, or gray out objects.
See a few more fun iPhone camera apps after the jump.
Camera Plus Pro ($2) — Edit, crop, and adjust your photos saturation, hue, and exposure, and even take video, all in one app!
Magic Shutter ($3) — Create cool light trails with this app that uses a long exposure time to produce interesting light painting pics.
3D Camera ($2) — 3D is all the rage, so why not create cool anaglyph 3D images that you can see with any blue/red 3D glasses? Could be fun as after-holiday thank you cards!