iPhone Speed Test
Dasher or Prancer? 6 Apps That Check Mobile Data Speeds
Whether it's 3G, 4G, LTE, or EDGE, it doesn't really matter which data network is powering my iPhone's data — all I want to know is this: how long is it going to take this Instagram photo to upload? Sexy ads with Catherine Zeta-Jones lookalikes on motorcycles boasting 4G mobile broadband and LTE are enough to convince some consumers of "superfast" cellular speeds. And while that network performance quality may be true nationwide, be wary that true speeds are largely dependent on your area. Most speeds among wireless carriers vary from city to city and even between neighborhoods.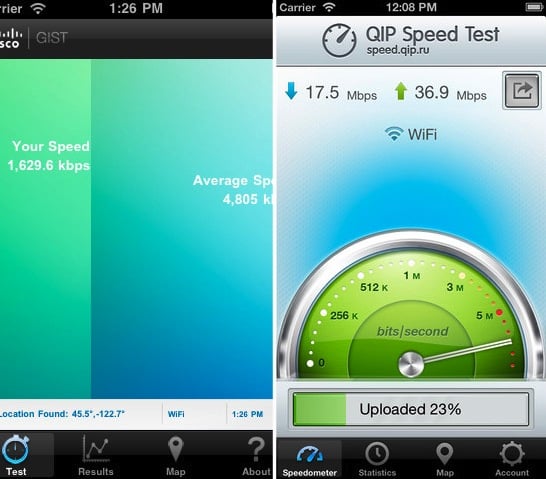 Since Black Friday, Cyber Monday, and the gift-giving season are upon us, chances are you might be opting for a new phone and a new carrier, too. Mobile network speeds should be a top consideration because, if you're anything like me, watching the dance of the swirling icon makes your blood boil. Find out whether you should stay with your current carrier or jump ship with these data speed testing apps for iPhone and Android.
iOS
Speedtest.net Mobile Speed Test (free) — With one tap, Speedtest.net tests mobile connections in less than 30 seconds. Discover download and upload times, and then track past tests and share your results. If downloading the app isn't available to you, just point your mobile browser to SpeedTest.net.
QIP Speed Test (free) — QIP anonymously uploads data speeds to their network's service map, so users can run a speed test and see how they compare with speeds in their area.
Cisco Global Internet Speed Test (free) — This app has a user-friendly UI and measures connection speeds relative to WiFi and cellular speeds based on location.
Speed testing apps for Android after the break.
Android
Speedtest.net Mobile Speed Test (free) — The one-tap connection test is also available for Android. See real-time graphs showing connection consistency.
cnlab SpeedTest (free) — This powerful app collects upload and download data rates and response time results for connections, and then it gathers the information in an online report.
Network Speed (free) — Monitor traffic in real time, with download and upload speed graphs in the navigation pane.