iPhone and iPad iOS 4.3 Updates
Found Features in the Apple iOS 4.3 Update
We were pretty stoked to get a bunch of new features in the iOS 4.2 update a few months ago, but now it seems we have even more to look forward to with iOS 4.3. The developers' build was released to the building masses recently, and said developers have uncovered some interesting and exciting additions. Check out what they've found below!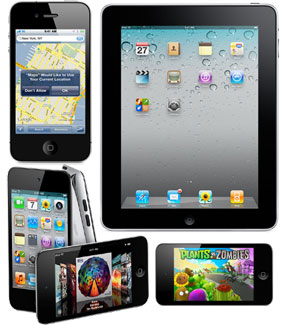 Personal Hotspot
A big advantage to Verizon iPhone customers: the personal hotspot. While AT&T has said it is "still evaluating" the feature, developers have found a personal hotspot switch in the new iOS 4.3 build. Will it be coming to all iPhones with the update? Even more importantly: how much will it cost?
Find My Friends
Apple may be adding a Google Latitude-like feature to MobileMe, something called "Find My Friends."
Check out the rest of the finds after the break.
Multitouch
iPad users will be happy about this find: your iPad will soon be able to support four- and five-finger multitouch gestures, letting you pinch, zoom, and swipe your pics, vids, and other on-board content.
Mute/Orientation Lock
iPad users who like to read while relaxing on the couch will appreciate the ability to determine what their iPad's toggle button does in the new build: mute or lock the screen orientation.
AirPlay
Looks like AirPlay could soon be used in conjunction with your apps and websites, meaning that you can stream video from your YouTube app, or music from Pandora, right to your TV.
FaceTime for iPod Touch
iPod Touch users can get in on the video chatting action with a new icon that shows FaceTime will soon be coming to the device.