iPhone vs. Droid: Camera, Part Two
He's a Droid; I'm an iPhone: Camera, Part Two
After the first round of camera head-to-head, I couldn't decide if I preferred my iPhone or his Droid, although the Droid's camera is technically superior. We decided to put our respective cameras to the test for a second round of battle royale during a dinner out. Side note: I know I said previously that phones at the table is a no-no, but this was in the name of research!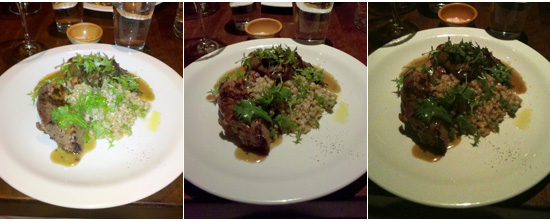 One feature of the Droid we didn't test out in our first camera head-to-head is its flash, which is noticeably absent from the iPhone. I figured this would come in handy during dinner; the restaurant is fairly well-lit but since I'm a huge fan of taking photos of my food, I can appreciate some extra lighting, though I was skeptical of how well the Droid's flash would light our dinner. Here are three photos of our dinner (pork, with barley and greens in case you wanted to know): a Droid photo, an iPhone photo, and a Droid-with-flash photo.
To see which is which (and the best part — our dessert pics),
.
The first dinner photo is clearly Droid-with-flash; the second, Droid; the third, iPhone. As I suspected, the flash was a little too strong for our dinner and washed out the image, not to mention causing a scene in the dining room — that flash is bright! Also as expected, my iPhone shot was a little too dark. Similarly, the Droid sans flash took a better photo of dessert (the Droid photo is on the left):
Yes, it's true: the Droid wins the camera battle. Though in defense of my iPhone, it took four hours for the images to go from the Droid to my email inbox (yes, I'm stretching for something to complain about here. I don't like losing).
There are still a ton of features we've yet to explore on our phones, so stay tuned for even more iPhone vs. Droid showdowns!