iTunes 11 Performance
6 Download-Worthy Changes in iTunes 11
The new iTunes has a brand-new interface, but it's still the same ol' music player on the inside. So why bother with the update, you ask? The latest version does everything iTunes 10 could do, but it's a lot less cluttered and its features are a lot more obvious.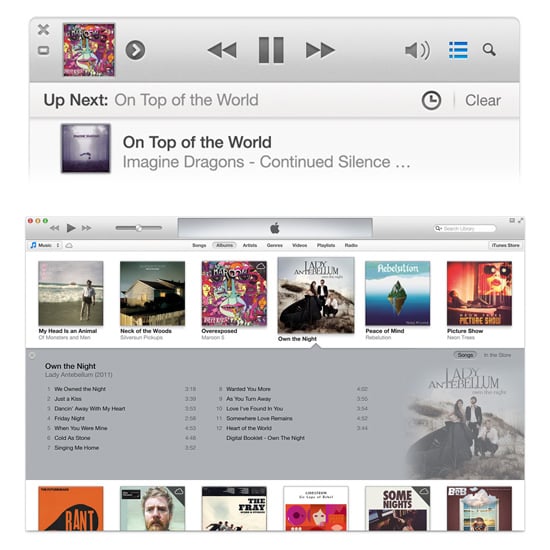 Click "Not Now" on those mightily persistent software update pop-ups all you want, but that's just keeping you from these six download-worthy improvements in iTunes 11.
Gift cards can be redeemed using your computer's camera. — No need to input fussy codes, just hold up the card (they're new, and in Apple Stores now) to the camera and iTunes will scan it.
The mini player shows you what's coming up next. — A little button on the smallest iTunes windows size displays your listening queue, and if you don't like what you see, search for a new song, playlist, or album without having to maximize the window.
Four more reasons why you should update to iTunes 11 after the break.
Instead of being jumbled together, media libraries, devices, and the iTunes store are now organized more neatly. — Playlists and shared libraries can be accessed from the left side of the new horizontal navigation bar, in a menu that pops over what's currently being displayed in the iTunes windows. Devices and the iTunes Store show up on the right.
Library view is bigger, bolder, and more visual. — The new iTunes puts less stuff in front of you, and the stuff that does show up is pretty nice to look at. Clicking on an album cover expands a track listing but doesn't take you away from the entire collection. If you really do miss that spreadsheet-style old interface, there's a button for luddites to switch back.
iCloud is integrated into iTunes more than ever. — If you're watching media that you rented or purchased from the iTunes store, iCloud saves your place and will pick up where you left off on any device.
Apple Remote, the free app for iOS that controls iTunes and Apple TV from your iPhone or iPad, got a fresh update too. — The newest version of Apple Remote works best with the latest iTunes. The app for iPad has the same look as iTunes 11 and features the mini player's "Up Next" button too.